About This File
Universal Extractor  1.9.21.209b by Gora/ Vandit



Universal Extractor is a program designed to decompress and extract files from any type of archive or installer, such as ZIP or RAR files, self-extracting EXE files, application installers, etc.  The full list of supported formats can be found in the table below.  It's able to support so many varied file formats by utilizing the many backend utilities listed in the credits at the bottom of the page.
Please note that Universal Extractor is not intended to be a general purpose archiving program.  It cannot (and never will) create archives, and therefore cannot fully replace archivers such as 7-Zip or WinRAR.  What it will do, however, is allow you to extract files from virtually any type of archive, regardless of source, file format, compression method, etc.
Created by Gora
modified by Vandit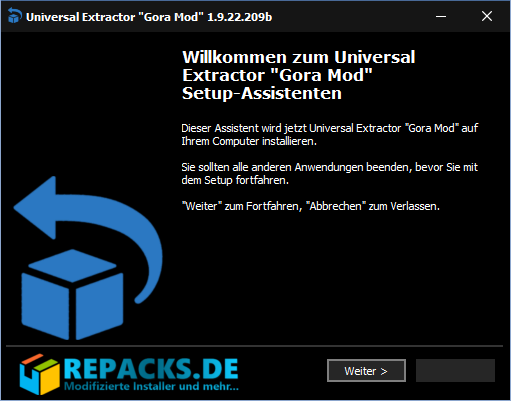 Supported Languages:
ar,bg,br,cz,de,en,es,fi,fr,hr,hu,it,nl,pl,ru,sk,sv,tr,uk,vn
R.I.P
gora, i am very sad 
Parameters for unattended installation
/VERYSILENT /LANG=Spanish
Supported languages
Dutch,English,French,German,Italian,Russian,Spanis h
Additional tasks
/TASKS="desktopicon,pin
---
What's New in Version
0.0.01
See changelog
Released
thank you Vandit
July 7, 2016 Evgeniy Sakharov (gora) passed away at the age of 60 years.
RIP gora...... i hope someone can continue to maintain in life and maintain the developing of this fantastic multi extractor package.
On other boards i have ask because the update feature it's not working... probally the original server it's now offline and not more maintain.......
Again RIP gora
.
Universal Extractors "11-09-2019"


All components up to date...

Actualizado

7-Zip 19.02 Alpha
WinRAR 5.80 Beta 1
MediaInfo Lite 19.09
Enigma Virtual Box Unpacker 0.57
TrIDDefs.TRD package (11821 file types, 05/09/19)