About This File
INFO: Internet Download Manager v6.25 Build 21 - RePack v3.0 by - =niTe_RiDeR_Pro=-
CATEGORY: Download Managers, Download Speed Boosters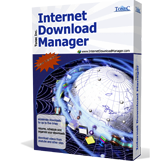 Quote

About The Download Manager:
Internet Download Manager (IDM) is an excellent download manager tool to increase download speeds by up to 5 times, resume and schedule downloads. Comprehensive error recovery and resume capability will restart broken or interrupted downloads due to lost connections, network problems, computer shutdowns, or unexpected power outages. Simple graphic user interface makes IDM user friendly and easy to use.Internet Download Manager has a smart download logic accelerator that features intelligent dynamic file segmentation and safe multipart downloading technology to accelerate your downloads. Unlike other download managers and accelerators Internet Download Manager segments downloaded files dynamically during download process and reuses available connections without additional connect and login stages to achieve best acceleration performance. IDM integrates seamlessly into Microsoft Internet Explorer, Netscape, MSN Explorer, AOL, Opera, Mozilla, Mozilla Firefox, Mozilla Firebird, Avant Browser, MyIE2, and all other popular browsers to automatically handle your downloads. You can also download YouTube, MySpaceTV, DailyMotion, etc flash/mp4 videos easily, with it's built in download panel. 
Changelog Of RePack (Setup)
v3.0 – GRAND UPDATE after 1 year, updated to IDM v6.25 Build 21. Had to reconstruct most of the script all over again, as I lost many of the project files
v2.13 - Updated to IDM 6.23 Build 5 & added the capability to automatically detect any version of IDM installed using the original installer, and uninstall it if found.
v2.12 - Updated to IDM v6.23 Build 2 & Fixed the IDM Google Chrome integration problem
v2.11 - Updated to IDM v6.22b1 & Fixed the damaged integration dialog box
v2.10 -  Updated to IDM v6.21 Build 19.
v2.9 - Updated to IDM v6.21 Build 18, and fixed a small dll registration bug.
v2.8 - Fixed dll registering errors in 64-bit OS. Also fixed an IDM integration problem, and made a small change in the setup coding & GUI.
v2.7 - Made some changes in the setup GUI, setup coding & in the additional tasks of the setup & fixed a smll registry bug.
v2.6 - Fixed a critical IDM Registry bug, added one more toolbar style named Blue Arrow, and made some changes to setup GUI.
v2.5 - Updated to IDM v6.21 Build 17, fixed some installer & registry bugs.
v2.4 - Remade it in Inno & made the setup smaller (didn't remove anything, smaller due to Inno's better compression)
v2.3 - Fixed the shortcuts problems & added a some more cool IDM toolbar styles.
v2.2 - Updated to IDM v6.21 Build 16 Final and added a Windows-8 style toolbar pack for IDM.
v2.1 - Fixed IDM Extension Chrome Integration Problem.
v2.0 - Updated to IDM v6.21 Build 15 Final, Improved a lot & Fixed many installer & registry Bugs.
v1.1 - Removed the problem which causes setup to run into maintenance mode every time. 
NOTES & ENHANCEMENTS (MODIFICATIONS):
Added .docx, dotm, .dot, .pptx, .pptm, .xls & .xlsx into the documents download category.
Added .application, .bat, .cmd, .a3x & .au3 to the Programs download category.
Added 8 stylish nice toolbar styles. Click here for the list
See here for the latest switchless fullly silent sfx installer of this repack: [Currently Uploading latest Version]
NEW: Added option to install IDM Backup Manager
Credits: Credits to @alfreire for my setup wizard theming methods/tips.
Command Line Parameters/Options: http://pastebin.com/Q375704
----------------------------------------------------------
IMPORTANT NOTE: The file is 100% clean, no virus, no malware/spyware/adware/trojan. See the virustotal.com report for full virus scan details (Detection ratio: 0/54).  In case mistakenly google chrome does not allow the download of the file, or shows that it is malware/'will harm your browing experience'; don't click 'dismiss' on the bottom downloads bar. Instead, click on 'Show all downloads', OR press Ctrl+J from the keyboard  and then on the downloads page that opens, follow the steps as shown: 


(Click on the image for full zoom)
BTW, I cant understand why the heck google chrome is telling that it is a malware??!!  :shifty:
Enjoy!


---
What's New in Version
6.25.21.2 - r3.0
See changelog
Released
No changelog available for this version.