How to add shortcut icons to Windows 10 desktop
One of our clients asked how to add shortcut icons on Windows 10 desktop.
Icons like "This Computer", "Control Panel","Network", "Internet" etc..
The easiest way is to open the Windows Explorer and with the use of a right click drag the  desired icon to your desktop.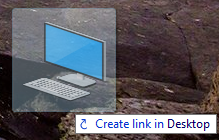 Another way to achieve this is to do the following:
Right click on the desktop and click "Personalize"
In the left pane select "Themes"
From "Related Settings" choose "Desktop Icon settings"
Select the icons you want on your desktop.

Comments are welcome.