Micron introduces small yet ultra-fast NVMe SSDs
Micron introduced 2400 SSDs, incredibly small, but still capable of having up to 2TB of storage with PCIe 4.0 speeds.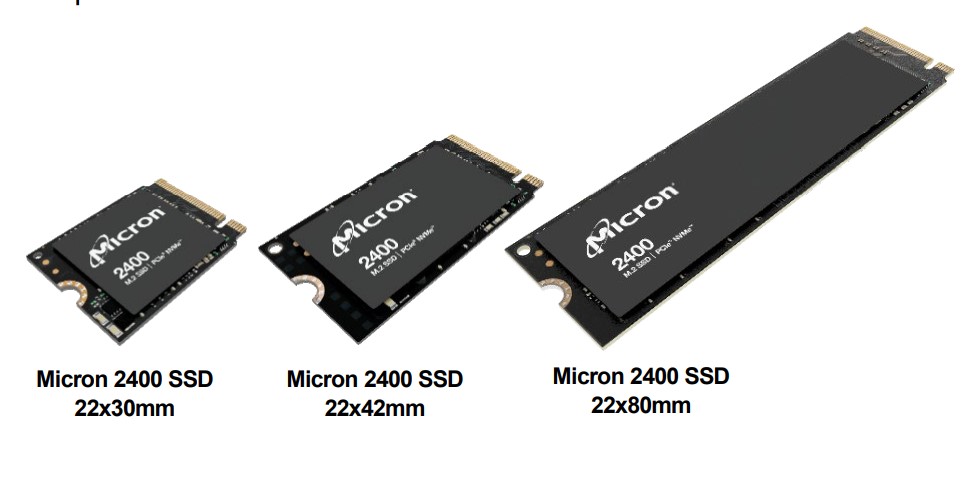 Image source: Micron
The Micron's 2400 SSD is the first and most advanced 176-layers QLC SSD that measures just 22mmx30mm but can still carry 2TB of storage capacity with decent performance. The company said that its new 2400 series SSDs have 33% higher I/O along with 24% less latency compared to its predecessor built on 96-layer technology.
These new SSDs come in capacities of 512GB, 1TB, and 2TB with 4,500MBps sequential read and 4,000Mps write speeds and are available in three compact M.2 form factors making them ideal for thin and light notebook devices. With excellent speeds, these SSD's also have an impressive power consumption where the highest capacity drive in an active idle state consumes less than 150 milliwatts of power.
It's worth saying that with these impressive performances, Micron's new drives are now meeting Intel's Project Athena requirements that mandate nine hours of battery life on a laptop with a high-resolution display.