Microsoft introduces a workaround for Outlook sign-in issues
If you are one of many Outlook users that have reported sign-in issues to their Outlook accounts, know that Microsoft has offered a solution.
Microsoft has confirmed that the company is investigating ongoing sign-in issues for Outlook that started happening in the past several days.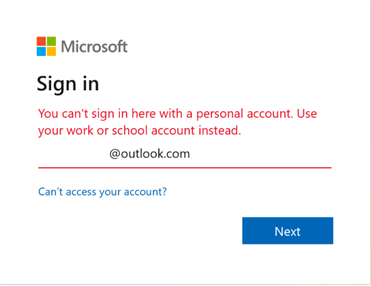 It appears that the bug affects those trying to sign in to Outlook and those who have their Outlook.com accounts already added to their Outlook profile.
Users that are already signed in can receive a "Need a Password" request, but once they provide it they will receive a "You can't sign in here with a personal account. Use your work or school account instead." error message.
Microsoft assures customers that the Outlook Team is investigating this issue and have offered a workaround.
To mitigate the issue, you should turn off Support Diagnostics which turns off the option to submit an In-app ticket using Help. The bug is related to how Outlook is authenticating for diagnostics in specific situations.
To disable or turn off Support Diagnostics please do the following:
Open registry editor (regedit.exe)
Navigate to the following handle to the registry key:
[HKEY_CURRENT_USER\Software\Microsoft\Office\16.0\Outlook\Options\General] 
In the right pane, double-click on the DisableSupportDiagnostics key and change its value to 1.
"DisableSupportDiagnostics"=dword:00000001

You might need to restart a computer.
According to Microsoft documentation, this policy setting determines if Outlook can communicate client information on failure to support services with the intent of diagnosing the issue or making the information available to support and help with the diagnosis/resolution of the issue and/or provide contextual error messaging to the user.