Where To Find A Developer For A Startup In 2022
Outsourced development is good at the start of your business. The most fragile moment of a startup's life cycle is the beginning. Investors are not yet in line to invest their $100K, there is no product as such yet. So until there is a product that is profitable, taking on salaries, rent and taxes are just dangerous to the wallet. Outsourcing to developers from this point of view is more predictable. If you outsource to the best developers, you will have a detailed estimate on hand, with deadlines and a plan.

Source: https://mobilunity.com/blog/forms-of-outsourcing-it-projects/ 
Startup founders understand almost from day one that it is impossible, and certainly inefficient, to build processes on their own, which are the same in any startup. Recruiting inexperienced people, training them, and wasting precious time on something that a high-class specialist would do faster and more reliably is strange.
It's not an easy thing to do to find a developer for a startup. Chances are, if you're a young business and have ever tried to hire strong professionals, you've run into the following problems:
A senior developer is expensive;

Strong professionals usually don't understand the value the job will give them;

Hiring a seasoned professional requires a budget, a team, and interesting tasks: An experienced person doesn't want to come in first and build everything long and painfully from scratch;

Young and ambitious professionals usually don't like to come to a place where they can't be taught anything – in a startup the principle of learning by doing works, which is not close to everyone;
It is unclear how to hire cool specialists if the team does not have a strong recruiter, and the founder has no background in this field. The resulting vicious circle: to hire a developer, you need at least some team, and to hire a team you need a professional from whom the newcomers will learn.

Source: https://mobilunity.com/blog/how-to-achieve-success-with-outsourcing-startup-development/ 
Startup Trends for 2022
The number of startups is growing rapidly: in the first half of 2021, investors invested $292.4 billion (almost as much as startups attracted in the entire last year).
Also in 2021, 30 companies got decanter status (startups valued at $10 billion or more), according to Crunchbase. It is twice more than last year.
Despite the fact that most startups will start making profits in the distant future (5-10 years), it is more profitable for investors to invest in these projects than to lose money by storing them in bonds with negative yields.
Some time ago there was an interesting report from Trendhunter covering business/product trends in 2022. According to it, in 2022 we can expect the following trends:
Ecommerce
Robotization
This trend is especially relevant in countries with high labor costs. There are several traditional ways to reduce the share of shipping costs in the cost of an order in e-commerce. But when combined with AI-powered delivery, they can help in some cases further improve the efficiency of the unit economy.
The same trend is true for classic retail, as it reduces contact between customers and employees during pandemics.
 New Models of Customer Interaction
subscriptions. Trendhunter highlights the restaurant business as an example, but this model also applies to any e-commerce business. Also worth noting is a trend from China – offline stores in which part of the user experience is implemented through apps on smartphones. This trend targets a younger audience and improves the shopping experience.
Mental and Physical Health
Under the influence of the pandemic, users have begun to invest a lot in their mental and physical health.
Mental Health
Mental health apps have grown tremendously, and this niche has become very competitive. To survive in it, some of the products started to explore new mechanics and niches.
Physical Health
It is interesting how people are paying more and more attention to their health. The first trend concerns the hotel and food sector. There is the concept of the Blue Zone, introduced by Dan Buettner, which is a set of regions where people live longer than the global average. Brands try to take inspiration from the lifestyles of such people and transfer them to other regions.
User Experience
The Metaworld
Well, after Facebook made its announcement, it's hard to deny that user experience in the meta-universe will be a long-term trend, with 2022 being just the first steps in that direction.
Another example of what we may yet see in 2022 is the customer experience trend. Companies are embedding the buying experience into the virtual space: video, live streaming, social media shopping.
Adtech
When we talk about advertising, which has intensified during the quarantine period, there is a lot of fatigue about mottling and aggressiveness.
Trendhunter has noticed a new trend in advertising – "comfort," which involves using more positive and soothing themes – relaxation, safe travel, etc. Food for thought on what you can do for your marketing campaigns.
Another interesting thing has to do with using the trend of work from home by creating more digital immersive advertising. It's the same with NFT exhibitions – digital art galleries are popping up and we're seeing some crazy deals with NFT art.
Sustainability
Customers care about a sustainable future. Leading brands are using sustainability models in their business. Everyone understands that there are many opportunities to do something good for the future of humanity while gaining additional opportunities from a marketing perspective.
Biodegradable Materials
Basically, it does what you would expect – it replaces environmentally hazardous materials with biodegradable ones in the production of various things – from iPhone cases, personal computers, and banana shoes.
Waste Management / Zero Waste
There are several trends in this category, including:
B2b waste management services that help businesses reduce waste (e.g., Too good to go, which we use at Jiffy to sell expired items);

Reduced cooking, where popular chefs create and partner with brands to prioritize reducing waste while preparing delicious food;

Medical waste, which generates new medicines. For example, dressings or additives from ingredients that would normally be thrown away;

Same with other niches, including wedding services and products, the beauty sector, food, and beverages.
Working From Home / Remote Work
The pandemic has opened the eyes to remote work for many professionals around the world. But it has also sparked demand for solutions that make working from home more convenient, combining consumer and production models delivered through a variety of home office software and hardware solutions.
Convenience
The first category is devices that make working from home comfortable enough, including port expansion hubs or high bandwidth routers that can support multiple video conferencing or streaming at the same time.
The second is about comfort when working from home. For example, furniture to delineate the work area, modular rooms, modular home offices.
Communication
Some people really miss the office culture, and startups that offer digital substitutes have started to appear. Virtual coffee machines, office platforms, remote communities aim at one thing: to bring back the social interactions left behind in offices.
Boomer Tech
Because older people are more at risk because of COVID-19 and it's preferable for them to stay home, there are several instances where the boomer generation is becoming more active in apps originally aimed at a younger audience, such as Snapchat.
Keep in mind that older audiences can be very valuable from a monetization perspective. So, combined with this trend, it's a signal to companies that if they can tailor their products to this segment and reach them with marketing, it could be a good growth point!
What Is SaaS? 
SaaS is a subscription-based software distribution business model. Users pay a set amount each week, month or year, and receive a service in return. 
Its main advantage is how it is monetized. Users are much more willing to agree to pay a small amount every month/year than to pay once, but a large amount. This is economically beneficial because the subscription can always be canceled and the money for the license is quite difficult to get back. There are other benefits for users – for example, there is no need to deal with the technical aspects (install, configure, update the application, check compatibility with the operating system, etc.), you just pay a subscription and use it.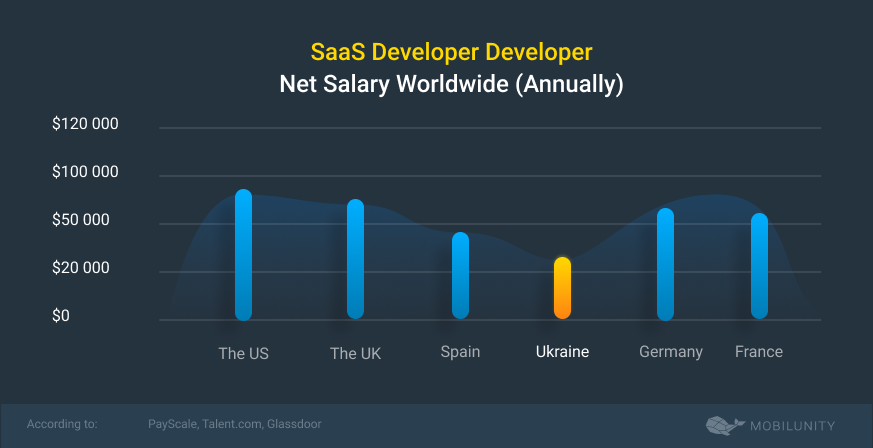 Source: https://mobilunity.com/blog/hire-saas-developers/ 
SaaS also provides professional customer support. The SaaS application can be accessed from any device over the Internet because the application runs on cloud servers. They can be remote from the user's location. Cloud usually refers to multiple servers connected to the Internet that can be rented. It allows users to access the same files and applications from virtually any device because the computation and storage happen on servers in the data center rather than locally on the user's device. That's why a Facebook user can log into their account on their new phone after their old phone breaks down – all their photos, videos, and conversation history will be there.
Let's take a closer look at the benefits of SaaS development:
All data is automatically saved in the cloud, unlike a physical server where everything has to be saved manually

it doesn't matter how much RAM you have on your computer to use SaaS, all data stays on a remote server

It is impossible to steal an application because the final version does not end up in the hands of users but in the cloud

SaaS products can be updated in real-time; the user will not need to install updates manually.

SaaS customer support

services are easy to use, easier to set up, and far less expensive than traditional platforms.
What's more, cloud services are regularly updated and can offer companies the most innovative tools compared to legacy platforms installed in-house.
The SaaS model can be used to build successful products in both the B2B and B2C spheres, attract venture investments and create unicorns, and even develop financially successful startups without outside investors.
Today, the effectiveness of SaaS is proven. It has already developed and perfectly described all the best practices and approaches that are available to anyone who wants to learn them.
So now, launching a SaaS startup, you need to know all the basic principles of building a SaaS business.
Disclaimer: This is a sponsored article.