Windows 10 endless boot issue solved
Lately, we have received several reports where some laptops got stuck in a Windows 10 endless boot screen. Windows 10 starts loading but it never gets to the login screen. The problem appeared after unsuccessful windows update installation.

I have tried to recover the system in many ways but none of those were successful.
– Last known good configuration – didn't work (strangely)
– Startup repair – didn't work
– System Image Recovery – didn't have any images
– System Restore – even though I had 2 restore points before problematic updates were installed, selecting each of those resulted in an error.
– Uninstall Updates – I have tried to uninstall cumulative and quality packs and both of these actions didn't help. I'm guessing that these updates couldn't be properly uninstalled by the setup. I have also received the following message:
Uninstall latest quality update – You have pending update actions and we won't be able to uninstall the latest quality update of Windows. Try running Startup Repair instead.
– Safe Mode – didn't work (at least at this point)
Finally, I have managed to run a command prompt from the recovery screen. To achieve this please do the following.
Hold the power button until the system shuts down
From the recovery menu select Troubleshoot | Advanced Options and then Command Prompt.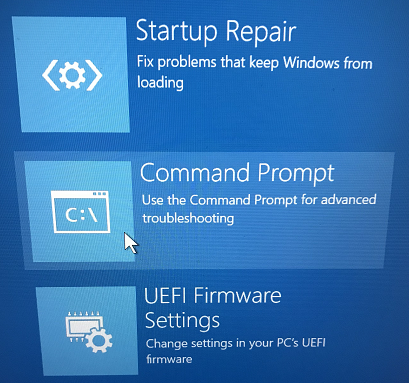 In the command prompt screen type the following:
del C:\Windows\WinSxS\pending.xml
del C:\Windows\WinSxS\cleanup.xml (this file might not exist in the system)
del C:\Windows\SoftwareDistribution\Download\ *.*
Now reboot the system into the Safe Mode**. You should get to the login screen and you will probably see this message:
We couldn't complete the updates. Undoing changes. Don't turn off your computer.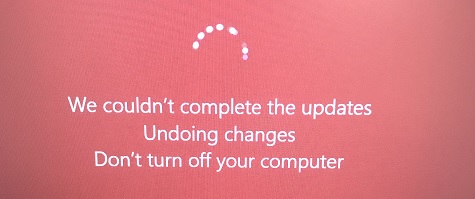 Once you get to the login screen, log-in with your local account. After you have successfully logged on to Windows, reboot. After the next reboot, you should be able to get into Windows normally.
**Note: you might need to run the Safe Mode twice because sometimes it won't work at the first try.
UPDATE: If you're stuck in endless reboot after you have successfully logged on to Safe Mode you should enter the Safe Mode again and delete the contents of C:\Windows\SoftwareDistribution\Download folder and then reboot again.
Hopefully, with this guide, you'll be able to solve Windows 10 endless boot issues if you run into the same problem.