How to add the option to right click context menu
If you would like to add an option to the right click context menu when you right click on some file, here's how to do it.
Hit Win ORB | type 'regedit' and click OK
Navigate to the following key: HKEY_CLASSES_ROOT\*\shell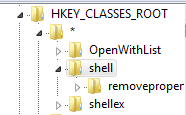 Right-click on the 'shell' | Create –> New –> Key | Name it 'Open with Wordpad'
Right-click on the 'Open with Wordpad' | Create –> New –> Key | Name it 'Command'
Right click on the 'Command' key and click 'Modify'
In the Value data field type the following: wordpad.exe %1

Close the registry editor
Right click on a .txt file for instance and check the context menu option.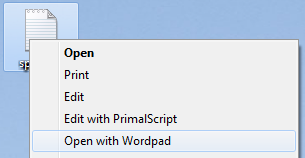 You're done!
Comments or suggestions are welcome!
Continue reading...
...we need you to hear this: More people are reading our website than ever but advertising revenues across the media are falling fast.
We want to keep our content as open as we can. We are independent, and our quality work takes a lot of time, money and hard work to produce.
You can support us with Multipass which enables you to pay for a bundle of websites: you can finance the work of journalists and content creators you love.