Citrix Virtual Apps and Desktops upgrade to v7 2203 2000 issues
A couple of days ago I started upgrading our Citrix v7.15 LTSR 1912 4000 farm to the latest LTSR 2203 with CU 2 version.
Unfortunately, I ran into some issues practically with each step of the upgrade so I presume this article might be helpful for Citrix administrators that plan to do a similar upgrade path in the near future.
As the Citrix license server must be upgraded first, please make sure to re-download the license from the MyCitrix portal and install it on the server before or after the upgrade to avoid license errors. If you won't re-install licenses on your Citrix license server you might get the following error during the upgrade of Delivery Controllers.
The required Customer Success Services Date is not compatible. You should install the Customer Success Services Renewal licenses on your License Server or purchase licenses that are compatible with this release.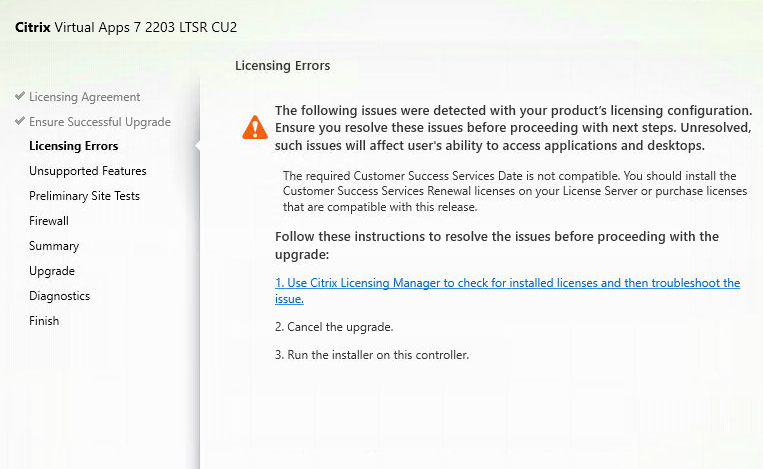 After the Citrix License server upgrade, you should upgrade the Storefront servers where you'll probably be stopped with another surprise. After you run the Citrix LTSR 2203 with CU 2 setup you might receive the following error message:
Storefront cannot be upgraded because the following folders are in use by another program. Close the program and try again.
C:\inetpub\wwwroot\Citrix\%storename%\App_Data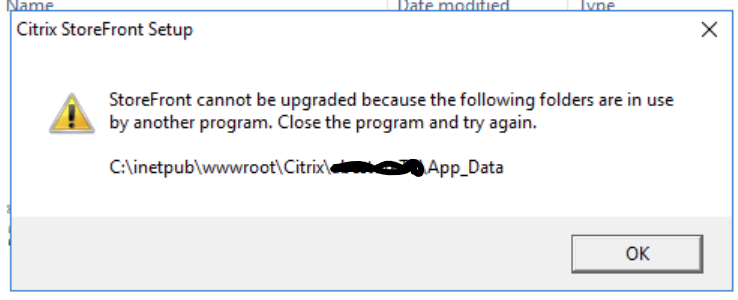 In order to bypass this error we have to do the following:
Copy the path where you have Citrix LTSR 2203 with CU 2 setup files
Open Task Manager
Close Windows Explorer Process
In Task Manager select the option to Run a new task
Paste the path to Citrix LTSR 2203 with CU 2 setup files
Run the setup again.
After you have successfully upgraded the Storefront server select the option to Run a new task again and type Explorer.exe
You might also run into another error during the Storefront upgrade process:
There was an error adding user accounts in the Administrators local group to the CitrixStoreFrontAdministrators local group.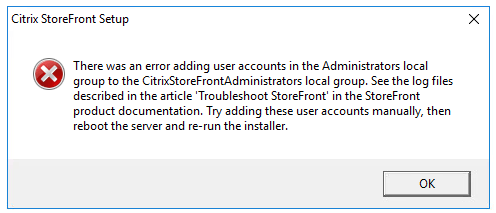 To solve this error we'll have to clear the CitrixStoreFrontAdministrators group from unknown users' accounts.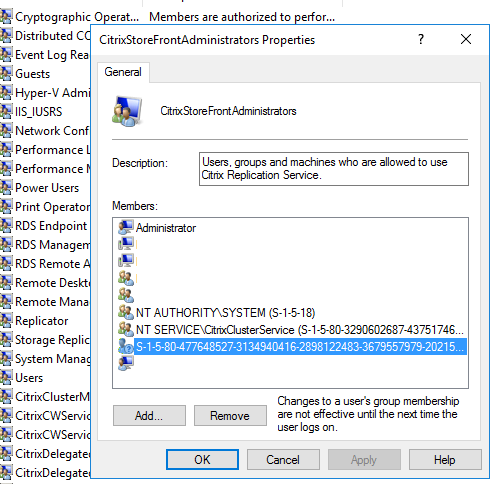 As you can see from the image below, we had one unknown user account that had to be removed. After I removed the marked account I could run the setup and avoid the error. Even though the error states that some accounts have to be added manually to the CitrixStorefrontAdministrators group, that's not true and is a misleading statement.
Important! Please have in mind that in order to successfully perform the upgrade to the latest Citrix LTSR 2203 with CU 2 all Citrix databases should be running on Windows SQL Server 2016 or a later version.