The VMRC console has disconnected
I have recently run into the following error on VMware VSphere client: The VMRC console has disconnected…attempting to reconnect. I'm not sure when this error started happening but I wasn't able to open any virtual machine on any host.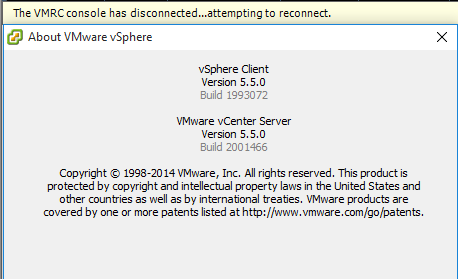 Some of the suggested solutions I've found on the net is to shut down the vmware-vmrc.exe in the task manager. Even though I wasn't able to find the mentioned process in the list I got the following error when trying to start WMware vSphere client.
vmware-vmrc.exe – Application Error | The application was unable to start correctly (0x0000005). Click OK to close the application.

Another suggested solution is to uninstall the vmware converter and restarting your machine. Then download and install the latest vmware vsphere client.
Some of the other suggested solutions are restarting your vsphere client, rebooting machine, running vpshere client in eleveated mode, restarting vmware management service on vsphere server and checking that DNS is correct from vpshere client to vsphere server. None of suggested helped in my case.
On my machine I had installed two vMware vSphere Client versions. Version 5.5 and 6.0.

In my case first I had to uninstall vMware vSphere Client 6.0 and 5.5 after that followed by installation of 5.5 and then 6.0 versions that solved the problem.
Crusial point of this is to uninstall ALL VERSIONS of vMware vSphere Client and reinstall the software.
Continue reading...
...we need you to hear this: More people are reading our website than ever but advertising revenues across the media are falling fast.
We want to keep our content as open as we can. We are independent, and our quality work takes a lot of time, money and hard work to produce.
You can support us with Multipass which enables you to pay for a bundle of websites: you can finance the work of journalists and content creators you love.