How to clear WSUS disk space
With thousands of updates released from Microsoft your WSUS disk space can get low pretty fast.
To free up some WSUS disk space we can delete superseded updates that are not applicable and thus not needed anymore.
To do this open the WSUS Administration Console and in the right pane add the supersedence flag column to All Updates view.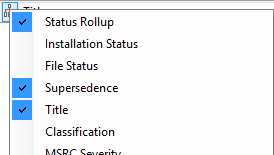 Filter criteria to Approved with Any status.
Sort the list by supersedence flag where all updates that are superseded by another update can be safely removed.
Here's an explanation of the supersedence icons:
Blue square on top: this update supersedes another update, therefore we should not remove this updates.
Blue square in the middle: this update has been superseded by another update and also superseds another update and it can safely be removed or declined.
Blue square in the right below corner: this update has been superseded by another update and it can also be safely removed or declined.
No supersedence icon: update does not supersede and it's not superseded by another update
After you have declined superseded updates you should run the Server Cleanup Wizard from the Options screen in the left pane.
You can leave all options selected in the wizard screen and run the wizard to delete unneeded files from the  WSUS server.