How to disable NetBIOS for DHCP clients
NetBIOS or Network Basic Input/Output System that was created in the early 1980s is still alive and is used on many networks today. NetBIOS is used for name resolution when DNS is not available. Because of many security concerns, it is strongly recommended to disable the NetBIOS service in your network. Disabling NetBIOS service greatly mitigates attackers' ability to poison and spoof responses, obtain user's hashed credentials, etc.
If you are using a DHCP service/server(s) in your environment it is advisable to disable the NetBIOS for DHCP clients.
Here's how to disable NetBIOS for DHCP clients.
Connect to your DHCP server and navigate to desired DHCP scope (you'll have to do this on each DHCP scope)
In the left pane, expand the DHCP scope and right-click on the Scope Options and select Configure Options.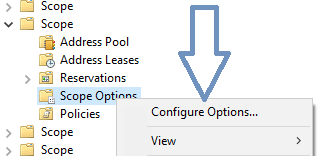 Now click on the Advanced tab and from the Vendor Class drop-down list select Microsoft Options.
Check the 001 Microsoft Disable NetBIOS Option checkbox and in the Data entry Long: box type the value 0x2.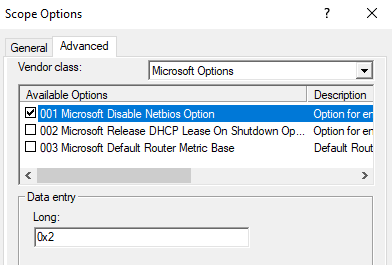 Click OK.
If you want this change to be active immediately, please open Command Prompt on the client machine and type the ipconfig /renew command to renew the DHCP client lease. Otherwise, it will be done automatically once the client renews its lease.
Hope this helps.