AOMEI Partition Assistant Standard 6.0 review

AOMEI Partition Assistant Standard 6.0 is a free partition manager, powerful and easy to use software for managing your disks and partitions. You are able to lightly fix problems like "low disk space on your system partition", by following the wizard for extending disk partitions.
Although AOMEI Partition Assistant Standard is reliable application, we advise you to make a full backup of your data before doing any changes on your disks.
If you plan to move your system to SSD drive you can easily follow the wizard to migrate your OS to SSD drives in no time, or copy your system and data files to another disk.
Disk copy wizard allows you to make a full disk backup that will protect you from a virus attack, system crash etc. If you plan to use disk copy wizard to make a full backup of your drive, we recommend you to use an external USB drive that will not be connected to your machine all the time.
AOMEI Partition Assistant also offers you to create Windows To Go installation disks within the application. Windows To Go allows you to boot Microsoft Windows OS from a flash drive on any machine. You will need at least 16GB flash drive for this purpose.
AOMEI Partition Assistant provides the feature to check for bad sectors on your disk or partition using Disk Surface Test, however this function can only find bad sectors, not repair it.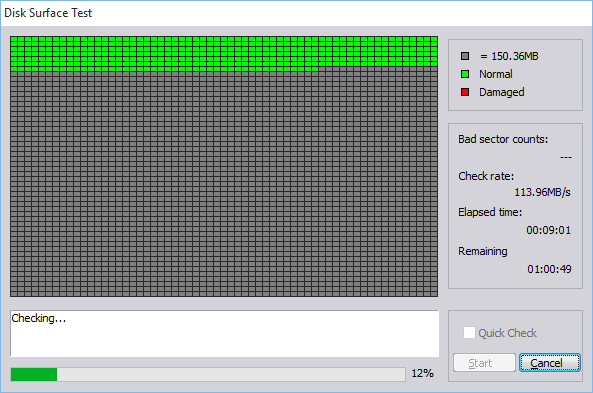 In some cases you might experience error messages like "system missing" or "operating system not found" when you boot up your system. Most of these erorrs are caused by damaged MBR (Master Boot Record).
To be able to fix this error you should create WinPE bootable CD or you can just connect the problematic disk to a machine with AOMEI Partition Assistant installed and rebuild the MBR.
In case you are selling your drive, it is adviseable to wipe your data and that is another operation you can achieve with AOMEI Partition Assistant.
For an average Windows user Partition Assistant offers plenty of features, although for more advanced users operations like migrating OS from MBR to GPT, resizing dynamic RAID disks, converting dynamic disks to basic and vice versa without data loss etc. you will have to buy AOMEI Partition Assistant Professional that retails at $44.1 (discounted price) with 90 days money back guarantee.
AOMEI offers a nice tutorial on how to partition your hard drive on Windows 10. Most laptops today arrive with preloaded OS on a disk with one partition. Most users don't partition hard drives even though this is crucial task to do.
It is recommended that you partition the system drive. System drive (usually C: drive) is a drive that holds the Operating System and applications and have data like pictures, music and videos separated on another partition. With your data separated on another partition,  you are able to format/reinstall OS on the system partition in case of a system failure, thus leaving your data intact on the other partition.

To conclude, although this product has a "standard" word in its name, it offers plenty of features for most users that will have the need to create disk images, resize partitions, create Windows To Go drive or similar drive tasks.