ForceDelete – Delete files and folders with ease
Every Windows user has most probably received cannot delete file: Access is denied or, the file is used by another program error message at least once on its PC. This can happen when the file or folder is locked by another process that's preventing the deletion. Power users can bypass these errors with the removal of file and folder locks when needed. For all other (non-power) users, there is a simple solution called ForceDelete.
ForceDelete can bypass the above-mentioned issues for you automatically and delete files and folders forcibly. ForceDelete is a lightweight and free Windows application that can be installed and configured in only a couple of mouse clicks. It even allows users to delete locked files and folders without terminating the processes and thus avoid potential data loss. By clearing the Close Processes checkbox and dragging files and folders onto the ForceDelete window it will delete those files without closing processes or programs that are still using them.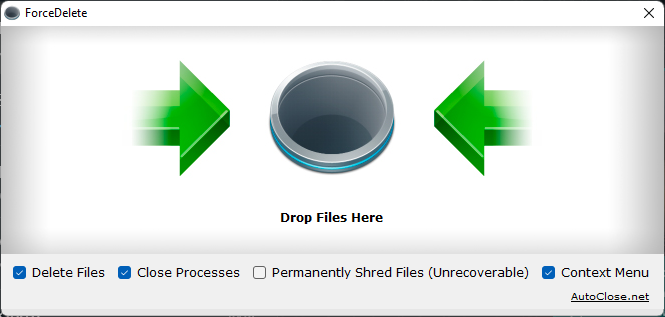 ForceDelete also integrates into the Windows context menu, so when you right-click on the file or folder, you will see these two options:
Force Delete – Deletes the files and folders forcibly.
Unlock by ForceDelete – Removes locks on files and folders that are preventing the deletion process.
The Permanently Shred Files option can also be enabled which will permanently delete files and folders from the hard drive making them unrecoverable, so use this option with caution. By default Permanently Shred Files option is disabled.
For more advanced users, ForceDelete also supports batch command line mode where forcedelete.exe can be used for batch deletion of files and folders. ForceDelete supports Windows XP / Vista / Windows 7 / Windows 8 / Windows 10 / Windows 11 & Server operating systems in both 32-bit and 64-bit editions.
For more information and free download please visit the ForceDelete Homepage.