Know the difference between Microsoft Power BI vs. Google Data Studio
BI, or Business Intelligence tools are kinds of app software that gather and process huge amounts of unstructured data, both from internal and external systems, which include journals, documents, books, images, files, health records, video, email, and other business resources. Although they may not be as flexible compared to business analytics tools, they provide a method of accumulating data to look at information, mainly via queries. Furthermore, the tools help prepare data for analysis to make dashboards, reports, and data visualization.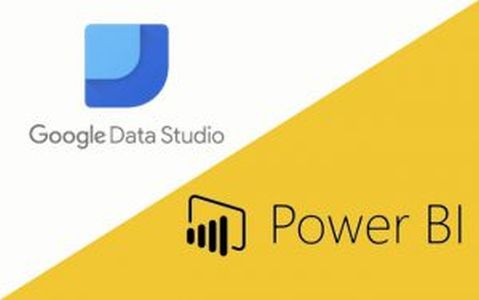 Used in general for more straightforward inquiry and reporting business data, BI tools could combine a wide set of data analysis apps, such as enterprise reporting, ad hoc analysis and queries, mobile BI, operational BI, real-time BI, and a whole lot more. Moreover, it also includes a data visualization software to design charts, and tools for crafting performance dashboards and BI dashboards, which display business metrics as well as KPIs to bring enterprise data to life in visuals that are easy to understand.
Cutting-Edge Solutions
For cutting-edge data visualization and business intelligence solutions, the momentum these days are Microsoft Power BI and Google Data Studio. Both enable creating customized reports and charts within seconds.
Business intelligence, a tech-driven process transforms raw information and data into useful information for analysis and for carrying out lucrative activities to help enterprises and consumers execute their business plans.
The primary goal of business intelligence is to use tools to accelerate and boost decision-making, increasing the effectiveness of operations, internal business processes, drive fresh revenue, and gain a competitive edge over the competition. It is generating Key Performance Indicators or KPI, based on historical data. BI systems help organizations identify the trends in the market, determine and set benchmarks for different processes, and spot issues that should be addressed.
Microsoft Power Business Intelligence
An intelligence platform by Microsoft. It's a web-based tool suite that excels in terms of visualizing data. It's an extensive, sturdy, and real-time analytics tool that enables customer development. It also connects numerous sources of data to prepare reports or dashboards.
Microsoft Power BI has a user-friendly interface, as well as excellent capabilities for data visualization. It lets customers integrate their apps and build reports and dashboards in real-time. It could be accessed from anywhere since it's web-based, with on-premises and cloud-based data warehouse.
The tool targets both medium and big organizations.  The key parts of Power BI are the following:
Power BI Service. An online software-as-a-service called the Power BI Service.
Power BI Desktop. A window desktop app to enable the development of building reports and dashboards.
Power BI Mobile Applications. Mobile app for Windows, iOS, and Android for viewing reports or dashboards in mobile devices.
Power BI Server. Enables publishing reports in an On-premise version, after making Power BI Desktop reports.
Microsoft Power BI Advantages
Seamless existing apps incorporation. This seamless integration allows adopting analytics as well as reporting capabilities.
Secure publishing or reports. It helps to set up an automatic data refresh and reports, letting users avail of the present information.
Dashboards that are rich and personalized. The crowning feature is the customizable information dashboards to meet the exact business requirements. It could be embedded seamlessly into the dashboards and BI reports for unified user experience.
No specialized tech support needed. It offers an agile inquiry and analysis without specialized tech support. Has agile analysis and inquiry without requiring specialized tech support.
No constraints in memory and speed. Transferring existing BI systems into a powerful cloud environment eradicates limitations in speed and memory.
Balanced performance and simplicity. The in-memory analysis and the DAX scripting languages as well are great examples of simplicity and performance balance.
Rapid and accurate BI extraction. Helps turn data into rich visuals, boosting the decision-making process through business intelligence extraction.
Data advanced services support. The development teams could help in seamless integration with advanced cloud services, including Cortana, Cognitive services, or Bot framework.
Google Data Studio
Developed by Google, the BI tool enables a user to build a branded dashboard with data visualizations. It's an entirely web-based solution that lets you produce custom reports and graphs within seconds. The tool is easy to customize, use, and share reports.
Furthermore, Google Data Studio is designed mainly for consumers and small enterprises. It also provides an almost visual or widget on which a user would want to represent data. Users could also change the image, logo, or the size and color of the font in a report.
The tool provides functionality for sharing and permission in the same manner as Google Sheet and Google Doc, thus users could share the report with another easily, or configure reports permission. Moreover, users could also configure the report as a public web, thus there's no need for a credential for viewing the report.
Google Data Studio Advantages
Limitless access to widget options. Not like Google Analytics that only allows a maximum of twelve charts or graphs in a report, the tool enables you to include several widgets. This enables you to share and explain data in several ways.
Widget options include the following:
Pie charts
Heat graphs by state, region or country
Time-series graphs
Pull up to 12 various data sources. One of the most unique and helpful features comes with the ability to draw up to twelve different data sources, which could be compressed in the reports. Meaning that you could pull and pool data from different vital platforms.
Some examples include:
Google Ads
YouTube
Google Analytics
Search Console
CloudSQL
Craft easy to read reports. Data Studio reports could be broken down into a single page or twenty pages, demonstrating the customization and flexibility of the tool. It adapts to the unique requirements of an organization, which make it sharing vital data a process that's stress-free
Changing colors, fonts, sizes, themes, and others is easy to make every report easy to read. Furthermore, you could add anywhere from one to ten widgets on every page.
Easy sharing of reports. When you review and compile reports with several data options and metrics, you may want opinions from other team members, the account manager and organization decision-makers fast. With Google Studio, you could share a link and let others see and customize the reports.
Create interactive experiences. Your widgets could also come to life. The charts and graphs need not remain one dimensional. Share reports digitally and let company leaders click and change reports to see data points they want to see. Users could visualize data easily with interactive features.
Dynamic reporting. Although you could do edits with the team in real-time, you could also let the tool pull data in real-time into the reports as well. The reports could be set to update and fill widgets automatically with in-the-moment data.
Embed on social media Data Studio reports. Should you want to publish reports across social media networks, such as Facebook to Twitter, you can with the Data Studio tool. Embedding reports is easy via the platform, which you may like to share to demonstrate an experiment, a study, or accomplishment. You can simply embed the report URL in a social media post and publish it.
Free Data Studio templates. The tool already has templates to help with reports. It also comes preloaded with Google Analytics, Google Ads, and YouTube templates and a whole lot more. It even comes with templates for certain industries, such as eCommerce.
Power BI or Google Data Studio?
Google Data Studio is a great choice if you:
Data is clean and with no editing required
Uses mainly Google data sources
Don't need or want to analyze data
Want to include data from several sources in a single graph or table
Do not want to pay anything
Power BI is a great choice if you:
Data still has to be edited, to be combined and others
Use various data sources (non-Google)
Need or want to analyze data
Wants to include data from different sources in a single table or graph
Conclusion
Power BI is overall a more established solution, offering a strong set of functionalities for a minimal monthly cost. GDS on the other hand is a great choice if you want a free service with basic features. However, when it comes to valuable insights and making a well-informed decision, it could be a setback.
If there is a restriction when it comes to the cost, you could go with either a free version of both tools. Basically, if you do not want to pay, do not need to carry out data clean-up, have clean and nice data ready, or need not display data from various sources, the Google Data Studio is a perfect choice.
If you however need to perform complex transformations of data, willing to pay and must view information form ad systems outside Google, then the best choice would be the Microsoft Power BI.
More about Author
As a manager in a Sharepoint development service provider company Tatvasoft, Vikash Chaudhary likes to share his bylines among many publications. He has a very unique way to approach audience taste and writes very informative subject matter for them. You can always follow him on Twitter.