Quick Outlook Repair
Microsoft Outlook stores all user information in a single file during use. This is practical but there is a risk of losing all your information if the file gets damaged and you are unable to access it. In situations like these, I recommend using Recovery Toolbox for Outlook. This program is an excellent tool for diagnosing and troubleshooting issues like these.
Previously in situations like these, I used inbox to troubleshoot the issue but this is a more complex alternative to Outlook Repair, which requires additional knowledge and preparation to use it. Therefore, I switched to a simple and accessible version of Recovery Toolbox for Outlook.
About the program
Recovery Toolbox for Outlook is software that allows you to recover and then use MS Outlook files that cannot be opened normally. Saving can be done from various tabs.
Information recovery using this software takes place in several operations:
Reading a PST file that stopped opening.
Analysis and recovery.
Saving the recovered information from the source, which does not open into a new file.
The program successfully fixes the assigned task with 99% efficiency in very little time. I once recovered a 300MB file in 20 minutes.
The program has a beautiful user interface that's simple and easy to navigate. There are no difficulties in using this program neither are there a need for hints in comparison to other Outlook repair programs. Recovery Toolbox for Outlook requires a small amount of RAM on your PC and does not overload the processor. This makes it useable in-office computers which usually have average performance.
For smaller files, you can use an online version of the program where you just have to upload a file to the website and wait for a few minutes for your file to be fixed. Here is the link to the online tool: https://outlook.recoverytoolbox.com/online/#/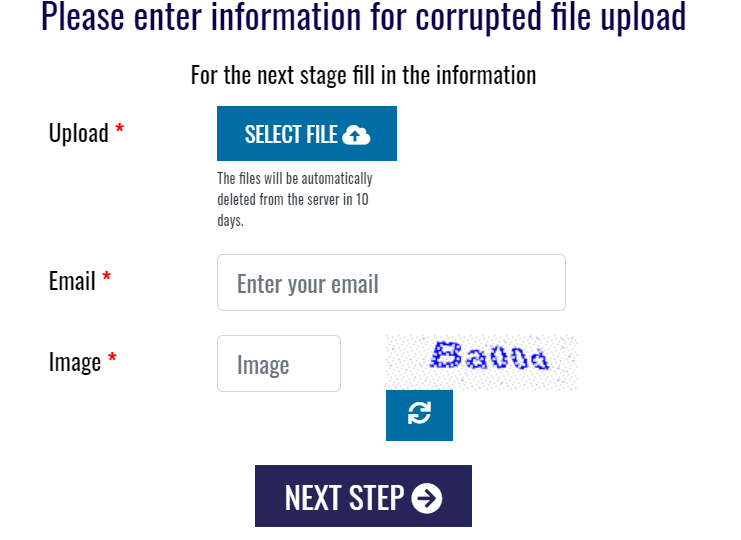 I use this tool a lot and I have never encountered a situation where it failed or was unable to complete its assignment.
Recovery Toolbox for Outlook and its features
Despite the small amount of computing power needed by the program, and a simple control interface, it has broad capabilities as it allows you to restore, export, convert and read damaged files.
Here are some advantages of the program:
You can work with any items from the mailbox.
The size of the PST file can be anything. I tested a 90GB file and the program worked fine.
Encrypted and secured data is processed.
There is a preview even in the free version.
It is possible to save the received data in various formats.
Ability to export messages to Windows Live.
Provides the ability to recover Arabic characters and non-English characters.
Snapshot capability makes it unnecessary to scan the same file.
The order of the folders after the procedure will be the same as before.
There is a search function for messages.
Compatible with any version of MS Outlook.
Recovers non-English characters and characters from right to left.
How to Recover Corrupted Data
Here are the steps to recovering corrupted data from * .pst or * .ost files of Microsoft Outlook:
To use the program, download, open, and install it. To download, I recommend using the official website to avoid the risk of installing malware on your PC.
Find and select the PST file you need to recover.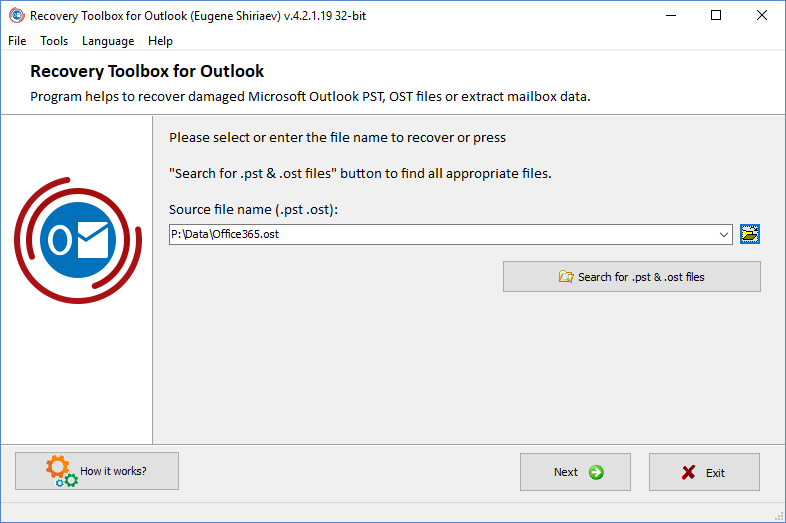 Select a recovery mode.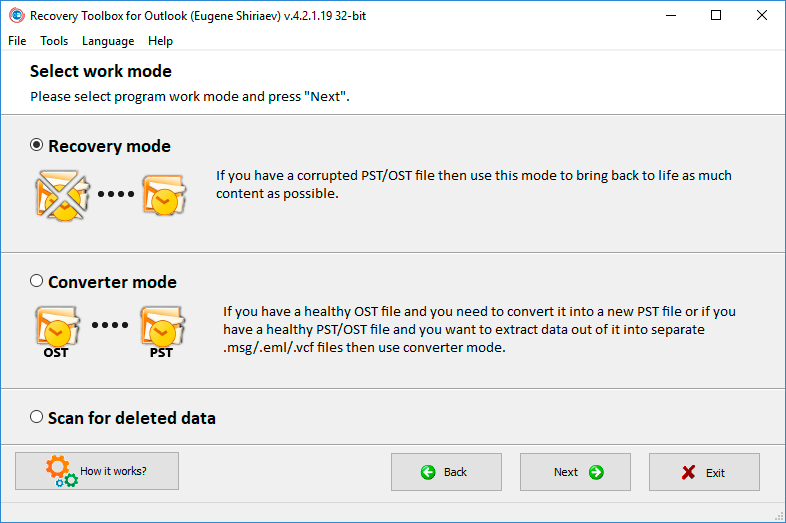 Select the folder where the recovered information file will be saved.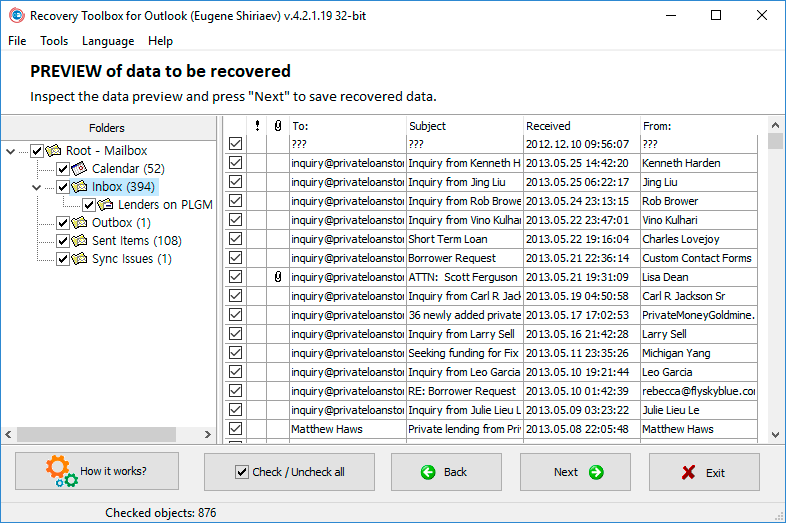 Select Save as PST File.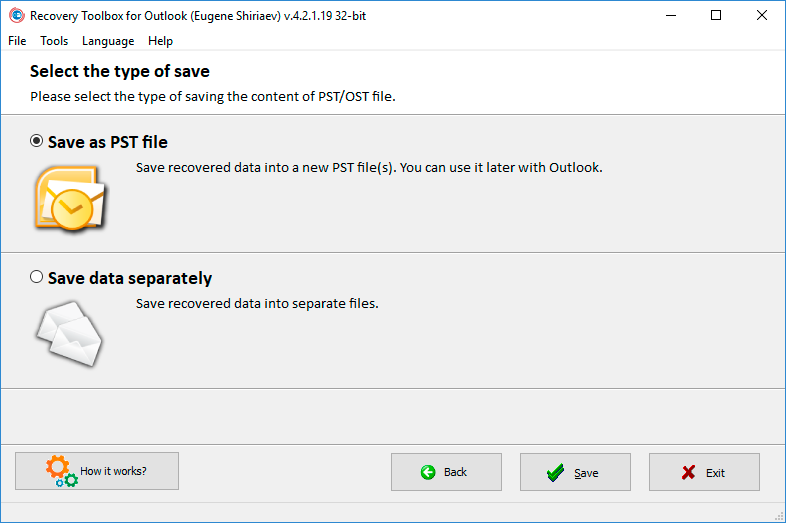 Click the Save button.
Next, wait until the program will finish its job and have a look at the results.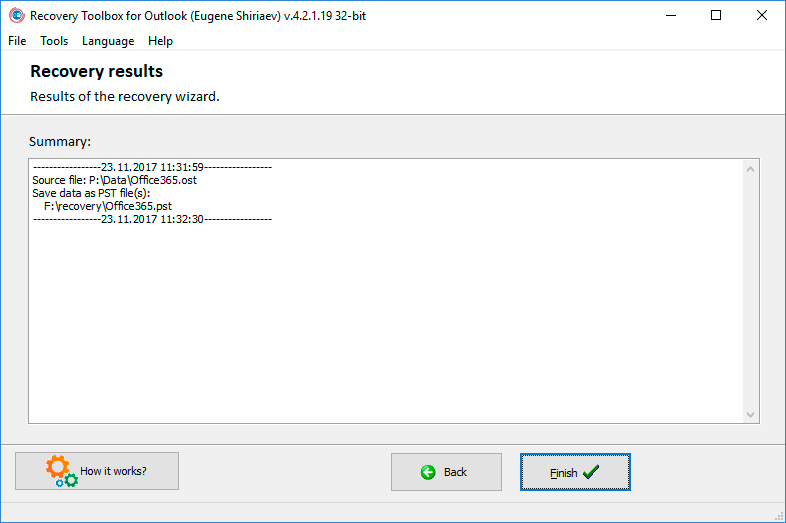 Done!
.PST Repair Outlook download
Before you proceed to downloading and using the Outlook Repair Toolbox, I recommend that you familiarize yourself with the features of the .pst Repair Tool Outlook 2007 Download file. This file makes it possible to combine any version of MS Outlook from old to new. The creators of the Outlook Repair Toolbox software give guarantees that their program conducts safe information analysis and data recovery.
The principle of the program is as follows: it creates a copy of the incoming document before starting to work with it, so the original file is not affected.
Also, the developers emphasize that your information is confidential. Your data and other business data cannot be disclosed.
Some things you need to know
The program does not support the restoration of contact groups.
There is a "Try before Buy" option.
The free version is a Demo version of the program that anyone can use. After prioritizing the program, you will be able to use all its functions in full for any period. Also, it is worth paying attention to the fact that the program is not open-source software.
Questions about program performance
According to my experience, I want to present the most popular questions and the answers to them.
Question 1
Outlook Repair Toolbox no longer works on Windows 7
Answer
To fix this problem, I recommend going to the control panel, then going to the system and security section and the system subsection.
In advanced options, you can find system properties and select advanced, and then click Settings.
In the Data Execution Prevention tab, you must select to enable DEP for all services other than user-selected PCs.
Then click Add and Download the exe file that you tried to open.
Then click apply to keep everything.
Question 2
Is it possible to recover .PST files using the program if they were deleted from the hard disk?
Answer
Unfortunately, this feature is not available. But, you can install it from your hard drive using special software, and then use our program.
Question 3
The hard disk does not have enough memory can I use an alternate boot disk
Answer
Yes, it is possible to save to an alternative hard drive, but you need to take into account the nuance with the available disk space, it should be an order of magnitude more.
Recommended volume: 2 times larger than the original.
Question 4
How to solve the problem: 0x8004010F: Outlook data file is not available
Answer
To fix the problem with error code 8004010F, I recommend:
Download, install and run the software from here https://outlook.recoverytoolbox.com/repair-outlook/.
Select the .PST file.
Press Recovery mode.
Select a folder for the restored copy.
Replace the damaged file with a workable one.
Conclusion
If you get the "Outlook data file cannot be accessed" error while using Microsoft Outlook, I recommend installing the Outlook Repair Toolbox software. It is a reliable and simple software that will save your data. This program can be used both on the PC itself and online, which does not require additional space on your PC.
This is the best recovery software I have come across in my experience.
Disclaimer: This is a sponsored article.