Stellar Converter for EDB review – Best E-mail Conversion Tool
Stellar Converter for EDB is one of the best e-mail conversion tools that can efficiently and quickly convert Microsoft Exchange Database (EDB) files into Outlook PST files.
It can convert offline or hosted (online) EDB files and also extract mailboxes without the need to dismount the database. Converted data can be previewed and then saved in various formats like PST, MSG, EML, RTF, PDF, and HTML formats for Online & Offline Exchange databases.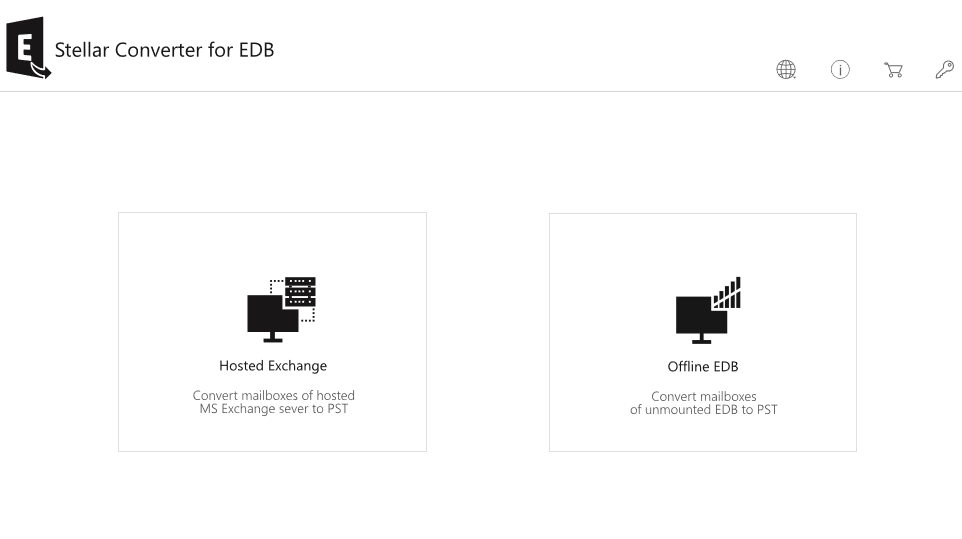 Aside from being able to export single or multiple mailboxes, this converter supports parallel processing which results in faster conversion. The software can export up to 4 mailboxes simultaneously to PST, Live Exchange, or Office 365 without impacting the server performance.
It also allows you to prioritize mailbox conversion, which helps export critical mailboxes first than others. All exported mailboxes include e-mails, contacts, calendars, attachments, notes, tasks, and even journals.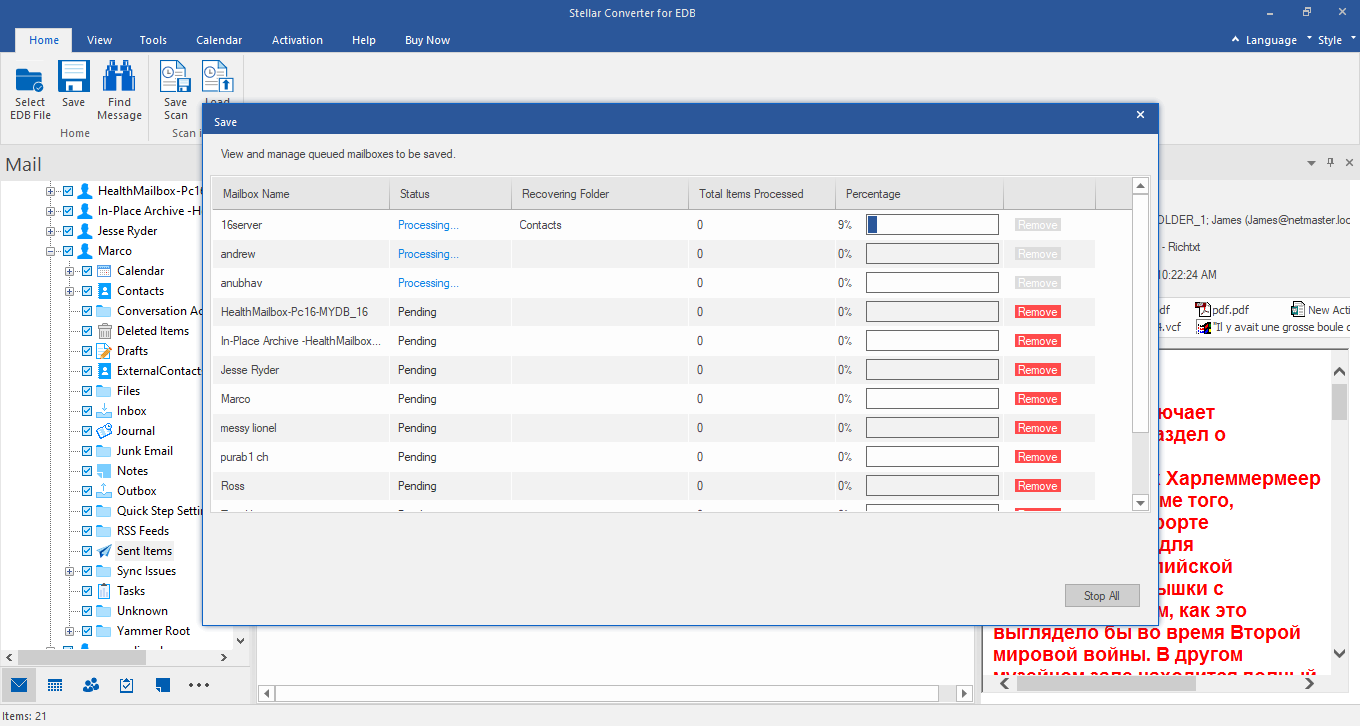 The software auto-maps the source and destination mailboxes when you export the converted mailboxes to Live Exchange or Office 365. Users can also create a new mailbox directly from the software interface on the destination server while exporting the mailboxes to Live Exchange. The option helps when you need to map a missing mailbox on the destination server.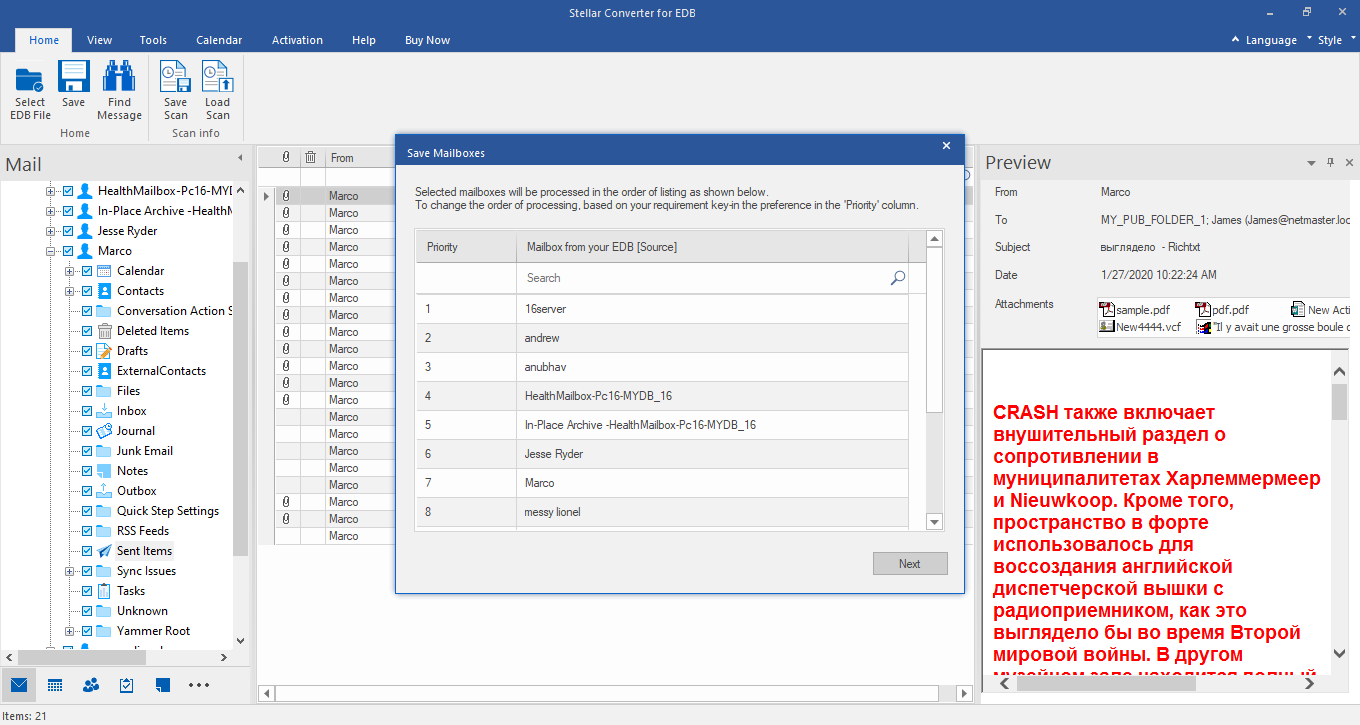 Stellar Converter for EDB is powerful enough to migrate large EDB files to PST's without file size limitation and also export offline EDB files and Public folders to Live Exchange or Office 365.
Also, it supports UNICODE files and thus, can convert EDB files of any language to PST format. Besides, you can also save the converted mailbox database's scan information in .DAT format. This allows you to resume the conversion of mailboxes at a later stage and without rescanning the EDB files again. The option comes in handy when you need to convert large EDB files.
The filter options available in the software allow you to quickly find, preview and export specific emails from the converted mailboxes. Further, you may apply filters to include or exclude emails based on date range or email address while exporting the mailboxes to PST, Live Exchange, or Office 365.
Additionally, you may use the right-click to save individual mail items to PDF, EML, MSG, HTML, and RTF formats.
It uses a simple and intuitive interface while the installation process is pretty straightforward. Supported Exchange versions include every release from 2000 – 2019 and even v5.5.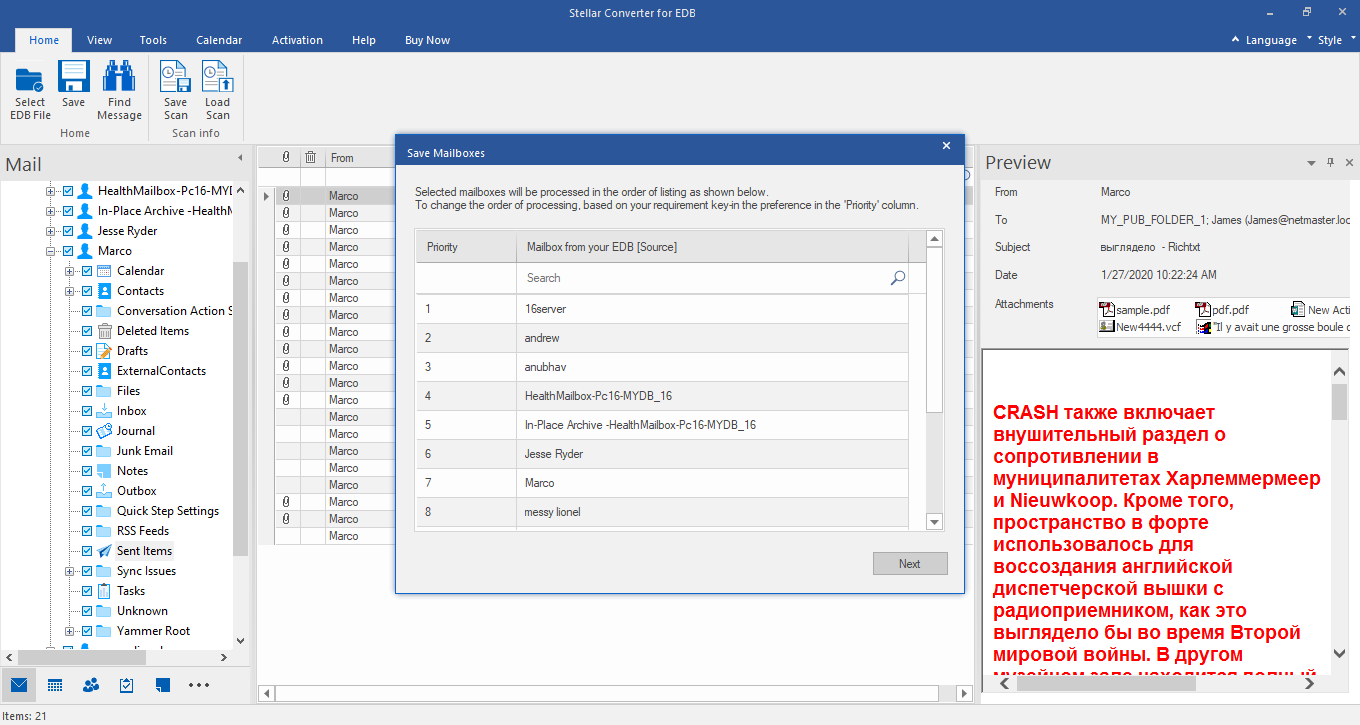 Hardware and Software Requirements
The latest stable version of EDB to PST converter is compatible with client operating systems, including Windows 10, Windows 8.1, Windows 8, Windows 7, and also many Windows Servers versions including Windows Server 2008, 2012, and 2016. You may install the software on any system that meets the following minimum system requirements,
Processor: Intel Compatible (x86, x64)
Memory: 4GB minimum (8GB recommended)
Hard Disk: 250 MB free space
Also, it requires MS Outlook to save converted mailboxes in PST format.
Pricing
Stellar prices range from $299 to $699, depending on the software Edition.
Stellar Converter for EDB- Corporate-I
Allows you to convert and save up to 50 mailboxes to PST or export them directly to a Live Exchange Server or Office 365.
Stellar Converter for EDB- Corporate-II
It allows you to convert and export up to 500 mailboxes to PST, Live Exchange, or Office 365 and offers all the features of the Corporate-I edition
Stellar Toolkit for Exchange
To save more than 500 mailboxes to PST, Live Exchange, or Office 365, you can get the Toolkit edition. This edition allows you to convert virtually unlimited mailboxes to supported formats. Besides all the features available in the Corporate editions, it also supports EDB recovery, converts OST to PST, recovers mailboxes from damaged Exchange backup files, and helps reset and recover forgotten Windows Server passwords.
Final Thoughts
Stellar Converter for EDB is currently offered at discounted prices. The software is also available in the 'Demo' version, which is free to download. You can use the demo version to try any Edition of Stellar Converter for EDB for free. The free demo version allows you to scan & preview your converted mailboxes as PSTs.
It's worth mentioning that Stellar Converter for EDB is highly recommended by Microsoft MVPs and IT Administrators. Besides EDB to PST conversion, the software can save the administrator from manual steps of exporting mailboxes through Exchange Management Shell (EMS) commands or Exchange Admin Center (EAC).
Disclaimer: This is a sponsored article.