Missing PDFMaker files – Adobe Acrobat X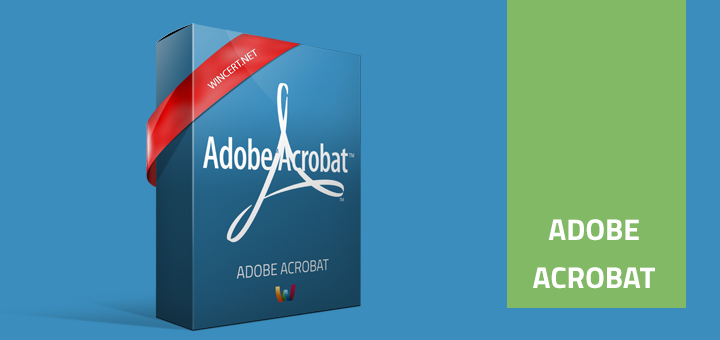 When you try to create a new PDF document using Adobe Acrobat Professional X you may receive the following message:
Missing PDFMaker files.
Do you want to run the installer in repair mode?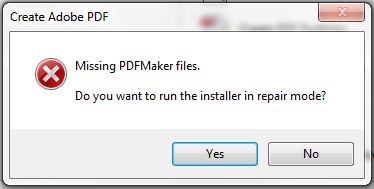 This error may appear when using Adobe Acrobat Professional X in conjunction with Microsoft Office 2010 x64, since the PDFMaker macro for Adobe Acrobat X works only with x86 MS Office applications.
Also, when using Microsoft Office 2010 x64 (64-bit) with Acrobat X the PDFMaker ribbon doesn't appear.
At this time, Adobe is not offering a PDFMaker add-in for the 64-bit version of Microsoft Office 2010. To use the PDFMaker add-in, run the 32-bit version of Office 2010.
Solution:
Open the .docx or any other file using Microsoft Office and then choose to save as .pdf document or choose to print to the Adobe PDF Printer to create PDF files using Acrobat X.
Update June 2011
Another solution has been posted on Adobe forums (thanks to DWD on this)
Open Office Application (i.e. Word, Excel)
Click the Office Icon in upper left corner
Click the "Word Options" button bottom right
Select Add-ins from the left column
(I scrolled through the box and noticed that for some reason the PDFMaker Com Office Add-in was disabled)
I went to the Manage drop down box at the bottom and selected "Disabled Items" and hit Go
Enabled the PDFMaker Add-in
Restart application
Comments are welcome!
Continue reading...
...we need you to hear this: More people are reading our website than ever but advertising revenues across the media are falling fast.
We want to keep our content as open as we can. We are independent, and our quality work takes a lot of time, money and hard work to produce.
You can support us with Multipass which enables you to pay for a bundle of websites: you can finance the work of journalists and content creators you love.