Disable Windows 10 Updates
For some reasone you might want to disable Windows 10 updates from downloading  and restarting your machine automatically after a successfull installation.
Until Microsoft Windows 8.1 you had several options to handle Windows Updates.
Install updates automatically (recommended)
Download updates but let me choose whether to install them
Check for updates but let me choose whether to download and install them
Never check for updates (not recommended)
With Windows 10 you basically have two options:
Automatic (recommended)
Notify to schedule restart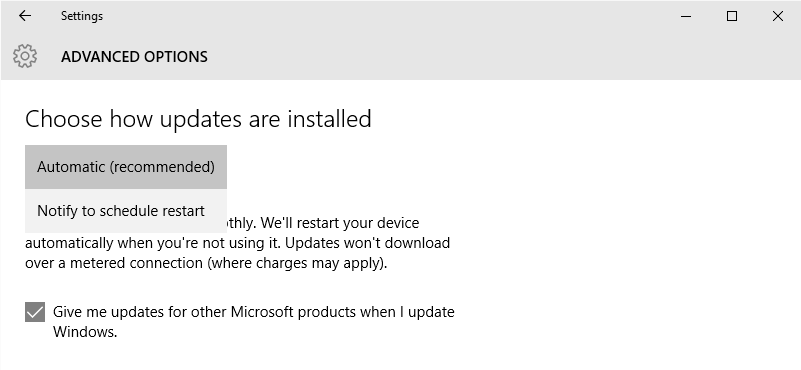 You are still able to disable Windows 10 updates in the following way:
Set your connection as a metered one, that will stop automatic update downloads. (Works only with Wireless networks)
Open Network & Internet | Wi-Fi
Select your network and move the slider "Set as metered connection" to On
Disable Windows Update service
Run services.msc and in the right pane scroll down to Windows Update service and change the Startup type from Automatic (Delayed Start) to Disabled.
Using Local security policy
Open gpedit.msc and from the left pane navigate to:
Computer Configuration | Administrative Templates | Windows Components | Windows Update
In the right pane select the following options (see what is best for your needs)
Configure Automatic updates (if set to enabled you are able to select the 2 – Notify for download and notify for install) This setting will not download or install new updates without user interaction.
Allow Automatic Updates immediate installation (If the status is set to Disabled, update will not be installed immediately)
You may also check other GPO settings that would better fit your needs.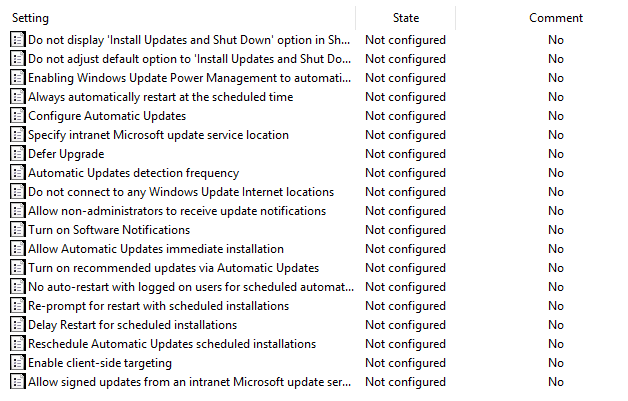 Using Registry editor
You can also disable automatic updates using registry.
Open regedit and navigate to the following key:
HKEY_LOCAL_MACHINE\SOFTWARE\Policies\Microsoft\Windows\WindowsUpdate\AU
Under AU create the following DWORD (32-bit value):
"AUOptions"
In the value field enter one of the following:
00000002 (Notify for download and notify for install)
00000003 (Auto download and notify for install)
00000004 (Auto download and schedule the install)
Microsoft have also released a tool that allows users to hide or block specific Windows 10 Updates.
This tool can be downloaded HERE.
I would recommend that you leave the Automatic Updates ON, but if you have a valid reason this article should help you reaching your goal 🙂