MacOS Mojave Boot Camp issues
Recently I have reinstalled my MacBook Pro and updated it with MacOS Mojave installation. Since I have the need to dual boot Windows 10 I've used Mojave Boot Camp to guide me through the process.
The problems started once I have tried to create a bootable USB drive with Boot Camp using my Windows 10 Enterprise / Pro image. The first error I have received was:
Your bootable USB drive could not be created. There is not enough space available on the disk.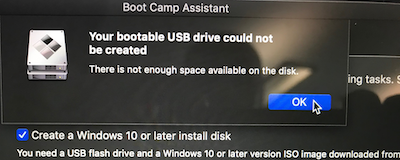 I have received this error although I was using a USB 3.1, 128GB drive. After some research I have tried with a different, older and smaller size USB 2.0 drive but with the same outcome.
After this error I have cleared the "Create a Windows 10 or later install disk" after which the system downloaded the required Boot Camp drivers onto the usb bootable drive.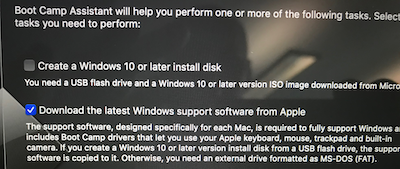 After I have repartitioned my disk (choose at least 100GB for the Windows 10 partition) I was able to boot into the Windows 10 setup.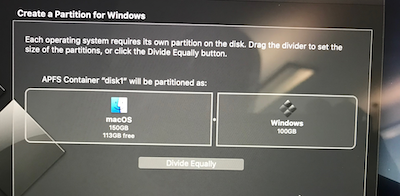 After I've boot into Windows 10 setup I have run into more issues. Now, the setup couldn't continue since Bootcamp drivers couldn't not be found.
A media driver your computer needs is missing. This could be a DVD, USB or Hard disk driver. If you have a CD, DVD, or USB flash drive with the driver on it, please insert it now.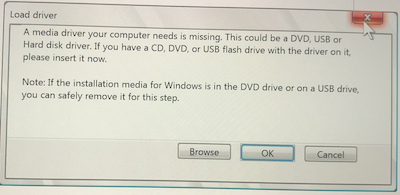 After some digging I have found that some users were able to solve this by ejecting their USB drive and inserting it into another USB port on the Mac. Apparently during the setup USB drive was not detected and it had to be unplugged and then plugged back in. Anyway this was not the case with my situation.
I have also tried to navigate to the SSD drive driver location in $WinPEDrivers$ folder, but that didn't help either.

I should also say that I have tried Windows 10 Ent/Pro images from the following versions: 1709, 1803 and 1809. Each resulted in the same error message.
So, I have tried to download Windows 10 ISO from the web and this time I was able to create bootable USB drive and boot into the Windows setup. I really can't tell what was wrong with other images I have downloaded from MSDN. It appears that those Windows 10 images can't be used for Boot Camp.
During the partition setup I could see three partitions but weren't able to install Windows 10 on any of those so I have formatted the partition with NTFS that had 93.9GB as that should be the one I have created for my Windows 10 Boot Camp OS.


Finally I have managed to install Windows 10 in Boot Camp, but now I wasn't able to restart in MacOS Mojave, at first I thought that I have formatted the wrong partition 🙂
If you receive the "Could not locate the OS X boot volume" error message when going to:
System tray | Boot Camp | Restart in OS X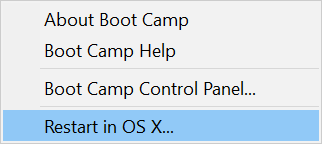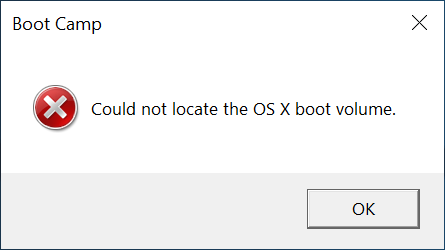 You can still boot into OS X by restarting Windows and holding the alt key on the Mac Keyboard. Now you will have the option to boot into the Windows disk or in my case "Untitled" which has the MacOS X Mojave installed. In this way you will be able to boot from Windows to Mac and vice versa.
Hopefully this article will help to anyone with the same Boot Camp issues. If you need help or have questions please post your comment below.