Nota Fiscal 00385380011.exe virus alert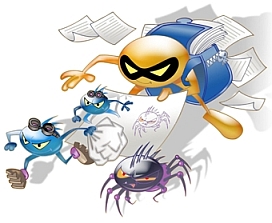 It seems that a new virus/malware is on the loose. Today I have received an e-mail containing the same virus in the past couple of days.
Here's the mail info:
From: Ludimilla – Financeiro
Nota Fiscal – digitalset
Body: Demostrativo em anexo
Attachment: Nota Fiscal 00385380011.zip
File: Nota Fiscal 00385380011.exe
Unfortunately, I'm not sure what harm can this virus do to your machine, especially with the fact that it still has not been detected by most of the Antivirus applications.
Here is the result from VIRUS TOTAL
So far it has been successfully recognized by Avast, BitDefender, Nod32, Symantec etc.. It appears to be just another variant of Win32:Malware-Gen and it should be removed as posted on im-infected.com.
So, please do not open the archived attachment. Delete the e-mail instantly.