Printing issues with cumulative update KB5005573
After installing the cumulative update (KB5005573) on the print server many of our customers reported printing issues.

Upon further investigation, we have noticed that many clients were receiving Access Denied error messages for the printer that was shared on the print server. Users may also receive credential prompts when trying to print or connect to the printer.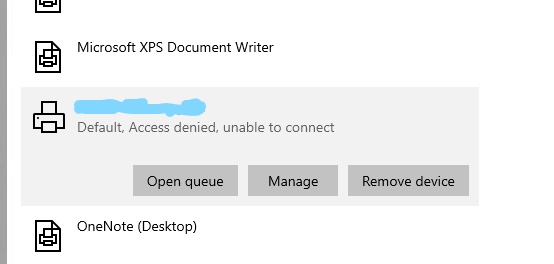 So, in order to resolve this issue, we had to uninstall the patch (KB5005573). Along with the patch removal, the printer had to be removed and added again on the client-side, after which the clients were able to print normally again. As removing Cumulative Updates for Windows Server is not a very smart idea if you want to stay protected we had to find possible mitigation until the problem is resolved by Microsoft.
To mitigate this issue we have to edit the registry on the print server.
From the run prompt type Regedit and navigate to the following handle to the registry key.
HKEY_LOCAL_MACHINE\SYSTEM\CurrentControlSet\Control\Print
in the right pane right-click New and select DWORD (32-bit) Value
Create the following key: RpcAuthnLevelPrivacyEnabled
Leave its value data set to 0.
Close the registry editor and from the services.msc snap-in restart the Print Spooler.
Hope this helps!
Microsoft has acknowledged this printing issue and confirmed that they are working on a resolution. The fix should become available later this month.