idoo File Encryption Software Giveaway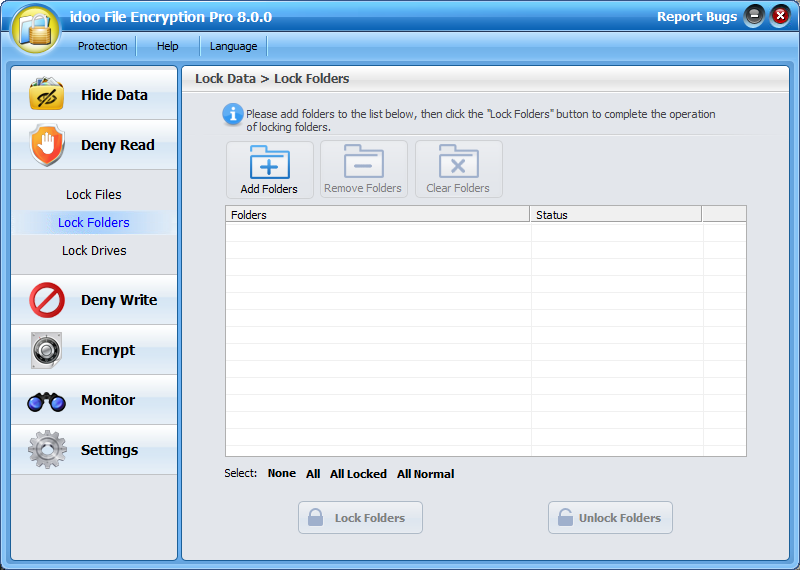 Update:
Here is the list of idoo's File Encryption Software lucky winners:
Veenu Singh
Zac
Sonia Kumar
Pooja Sharma
Akshay Kumar
Vaso Rao
Rohit Roy
Xavier Torres
Harry Malhotra
Rahul Chib

These members will get their licenses soon. You can download latest version of idoo's File Encryption Software here.
Just after we had our WinRAR v5.31 giveaway, we have another one on WinCert.net. This time we are offering you 10 lifetime licenses for idoo's File Encryption Software.
—————————
idoo File Encryption is a software that can provide comprehensive and flexible protection to your files and file folders, and you may lock, hide or encrypt files and folders according to your needs. Authority settings helps you to encrypt or hide your HDD easily. And you may also monitor the programs and files anywhere by remote supervision. You can set the simultaneous monitor for your programs, folders or the whole hard discs as you need, and export the login or any operation records to a txt file. A password can be set to prevent unauthorized file modification, as well as change files into read only. It adopts the 256-bit AES on-the-fly encryption algorithm, which is the most advanced encryption technology presently. And idoo File Encryption software is easy to operate, even for beginners.
So, as you can see, the name might fool you and you could thought that you'll get only a File Encrypting software, but you are getting more than that:
You are able to hide your files, folders or whole drives from the view
Deny read or write access without a password for your files, folders or the whole drives.
Encrypt folders
Monitor folders (extremely useful if you would like to see who's watching your data that's not protected with a password).
Features
 Encrypt, lock or hide files, folders separately or in batch.
 Set the authorities: prohibit modifying, coping, deleting, etc.
 Support to encrypt or hide the hard disk drive.
 Simultaneously monitor the program, files and whole HDD.
System Requirements
1. Support Windows 10
2. Support Windows Server 2012 R2
3. Support Windows 8.1
4. Support Windows 8
5. Support Windows Server 2012
6. Support Windows Home Server
7. Support Windows 7 SP1 & Windows Server 2008 R2 SP1
8. Windows Server 2008 32 bit and 64 bit Standard
9. Windows 7 32 bit and 64 bit Edition
10. Windows Vista 32 bit and 64 bit Edition
11. Windows Server 2003 32 bit and 64 bit Standard
12. Windows XP Home Edition and Professional 32 bit and 64 bit Edition
One thing I don't like with this software is not a modern interface, but all of the useful features compensate an average look.
The file is available for download  at THIS URL.
To enter this giveaway please become a fan of WinCert at:
https://www.facebook.com/WinCert
Also, please leave a comment bellow with your full name so we can contact you in case you are the lucky winner.