Remo Outlook PST Repair tool review
Most of our readers know that Microsoft's Outlook, the most widely used e-mail client in the world is using PST files for storing emails, contacts, calendar entries, notes, and even mail attachments.

Just like any other file, PST files can become corrupted and thus inaccessible for Outlook clients. Since many Windows users are not performing regular backups, running into a corrupt PST file situation might become very stressful as users can lose very important e-mails that cannot be recovered.
This is where the Remo Outlook PST repair tool steps in. Remo Outlook PST is a simple all-in-one PST repair tool that is used for repairing damaged, corrupt, or inaccessible PST files for any Outlook version, including the latest Outlook 2019. It is designed to perform complete recovery of email attributes inclusive of the subject, Cc, Bcc, etc. Built with a robust scan algorithm that works with a read-only mechanism you can rest assured with a safe PST repair.
Remo Data Recovery Tool uses a simple and intuitive interface that anyone can use with ease. After the setup, the Remo PST tool runs a quick scan for PST files on your system.
Once the corrupted PST file has been selected you should select the location where to save the repaired PST file.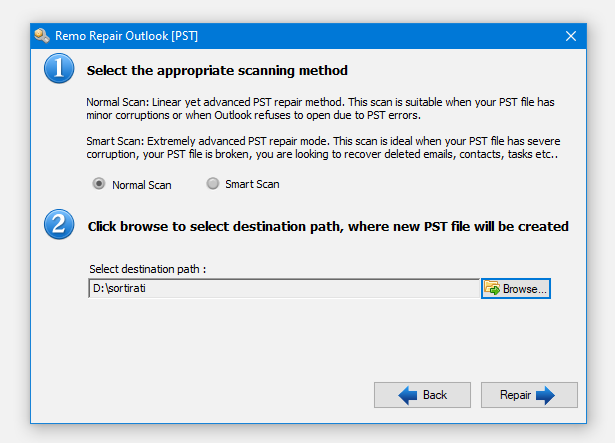 Once you click next, the software will do the rest and your corrupted or inaccessible PST files will be restored. If you are using a demo version of the Remo Repair Outlook software it's worth mentioning that you won't be able to see the body contents of restored email messages. A single-user license will cost you $149.97, while Tech/Corp license costs $399.97.
Remo Repair Tool can be downloaded for free HERE.
Disclaimer: This is a sponsored article.