The new Edge browser now offers QR code generator for sharing URLs
Following Google Chrome, the new Microsoft Edge now also offers the capability to generate QR code from an opened URL. The generated QR code that's been encoded from the URL can be read using any compatible device. Sharing URLs between devices using the QR codes will be much faster now.
The QR code generator is now available for Canary Channel 84.0.493.0
Considering this is a work in progress the QR code generator is currently turned off by default. In order to enable the QR code generator for the Edge browser here's what you need to do:
Open Microsoft Edge and navigate to the following page edge://flags
Now search for the Enable sharing page via QR Code flag and from the drop-down list set it to Enabled.

Restart the Edge browser for changes to take effect.
Navigate to any URL using your Edge browser and click on the QR code in the URL bar or right-click anywhere on the page and from the context menu select Generate QR code for this page.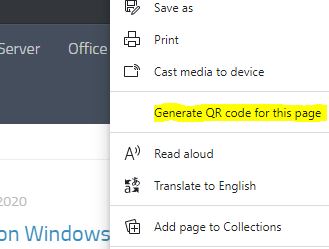 The generated QR code can now be scanned by any compatible device.