Windows 10 May 2020 Update brings more security for your PC
The latest Windows 10 major update (May 2020 update) is nearing its global availability. If everything goes well Windows 10 users should be able to see the latest update on their machines by the end of this month.
Among many new improvements and features in this update, Microsoft implemented a new PUA feature. PUA stands for Potentially unwanted applications which are a category of software that can cause your machine to run slowly or install harmful software. In other words Malware.
PUA blocking feature comes disabled by default and Microsoft recommends turning this feature on and that both Block downloads and Block apps options should be enabled.
Block downloads checks for PUA as it's being downloaded, but have in mind that Block downloads only work with the new Microsoft Edge browser.
Block apps detect PUA that has already been downloaded or installed. This option is useful when you're using the browser other than Microsoft Edge.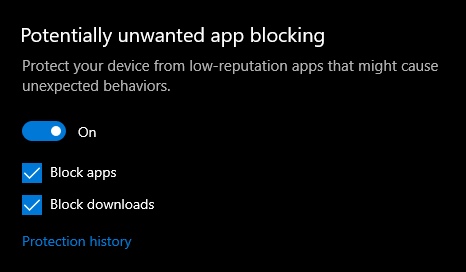 With the latest update, you will be notified that the PUA feature is turned off, but if you don't here's how to enable it manually. Search for the Windows Security from the Start Menu and set the POA blocking feature to On as shown in the picture above.