WinRAR v5.40 Giveaway on WinCert
Giveaway winners are:
Mohammad Ali Hessam
Jerzy Gorczynski
Alexandr Zemlyanoy
Mustafa Serif
John Nicholson
Our winners will be contacted by WinRAR marketing team in the next couple of days.
WinRAR, one of the most popular and powerful file compression archiving utilities features another giveaway on WinCert.net. We will share 5 perpetual licenses for the current (5.4x version) of WinRAR software.

WinRAR is available in more than 40 different languages and is compatible with Windows 10, 8.1, 8, Windows Vista, and Windows XP SP3. If you're still using Windows XP have in mind that WinRAR 5.40 now requires at least Windows XP with Service Pack 3 installed.
WinRAR 5.40 completely supports RAR, RAR5, and ZIP archives and is able to unpack CAB, ARJ, LZH, TAR, GZ, ACE, UUE, BZ2, JAR, ISO, 7Z, and Z archives.
WinRAR is free for a 40-day trial period to give you the chance to thoroughly test it. After that, you'll need to pay $29 for a single-user license to continue using it. WinRAR licenses are valid for all available language and platform versions. WinRAR gives you all future Updates for free and the program is updated on a regular basis.
WinRAR is a complete software solution that offers a full set of features for opening, creating, manipulating and managing various types of compressed files through its intuitive and streamlined interface, and it works quickly, smoothly and efficiently. WinRAR consistently ends up at the top of the list when it comes to programs of this type, and the generous trial period means there's no real reason not to check it out.
Here are some of the improvements over previous of WinRAR version 5.3x
The Name Encoding
This feature allows you to select encoding for archived file names. The Name Encoding submenu can be quickly accessed with Ctrl+E shortcut. It can be useful when unpacking and archive without Unicode file names.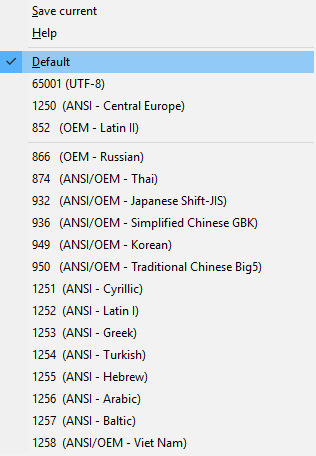 Usability Enhancements
You are able to drag folders from the folder tree panel and drop them to other programs or Desktop to copy or unpack them. Archive icon in the tree panel can now also be dragged to unpack the entire archive in one click.

SFX Feature
The comment length for RAR archives has been increased from 64 to 256 KB. Since SFX script commands are stored in archive comment, it now allows a longer main and licenses text in an SFX archive.
Recovery Record
If an archive has a Recovery Record, it can be repaired even after having been damaged due to a defect on a disc or other data loss. The ZIP format does not support Recovery Records. Now, with WinRAR 5.40, Recovery Records (.rev files) are in the same folder as usual RAR volumes and archive test command verifies .rev contents after completing the test .rar files.

Synchronization Feature
Previously "Synchronize archive contents" update mode (-as command line switch) aborted if some of the archiving folders could not be read. Now WinRAR continues performing the operation and preserves archived files matching unreadable folders.
With WinRAR 5.31 x 64 you were not able to use "compress and email" feature using Microsoft Outlook x64. This has been fixed in WinRAR 5.40
You can find a complete list of all improvements and all bug – fixes here:
www.win-rar.com/whatsnew.html.
For more information about WinRAR and win.rar GmbH visit:
http://www.win-rar.com
Information on the improvements and bugs fixed of WinRAR 5.40 can be found here:
http://www.win-rar.com/whatsnew.html.
The evaluation copy of WinRAR 5.31 32-bit can be downloaded at:
http://www.win-rar.c…rar/wrar540.exe.
The evaluation copy of WinRAR 5.31 64-bit can be downloaded at:
http://www.win-rar.c…rar-x64-540.exe.
To enter this giveaway please like Winrar and WinCert Facebook pages at:
http://www.facebook.com/Winrar
https://www.facebook.com/WinCert
Also, please leave a comment bellow with your full name so we can contact you in case you win the license.