Microsoft to deprecate Disk Cleanup tool
Microsoft has recently announced plans to deprecate the Disk Cleanup tool in Windows 10.
With the release of Windows 10, it was clear that Microsoft wants to move from classic tools like Control Panel, but no one would think it would take this much to achieve that. So far, only several apps and Control Panel applets were migrated to the Settings app or were published as true UWP apps.
We surely won't miss that classic Disk Cleanup tool considering it was not working properly for some time now as you can read in this article.
Disk Cleanup tool will be replaced with the Storage Sense app that is already available on Windows 10 version 1803 which was released with the April 2018 Update. By default, Storage Sense feature is set to OFF and you'll have to manually enable it.
When enabled, Storage Sense will automatically remove old and unused files and thus prevent clogging of your free hard drive space.
To access the Storage Sense feature, type storage in the Start Menu and click on the first result or hit the Win key + I | System | Storage.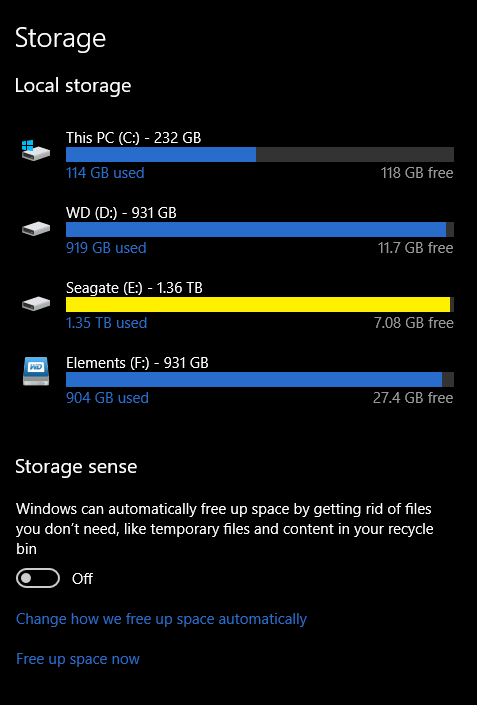 With the upcoming version of Windows 10, Storage Sense will bring many new features:
You'll be able to run the Storage Sense pre day, week or month or just when the disk space gets low
You'll be able to set a minimum age for temporary files and files located in the downloads folder on when those can be deleted.
Switch contents of the One-Drive folder to Online only and thus free up disk space.
Here's which files will be handled with the new Storage Sense app:
Temporary Internet cache, system, and system cache
Temporary Setup files
Driver packages
Old indexed content
Old Windows Update temporary files
Dump files
Dated system log files.