Tenorshare Any Data Recovery Pro giveaway! (Closed)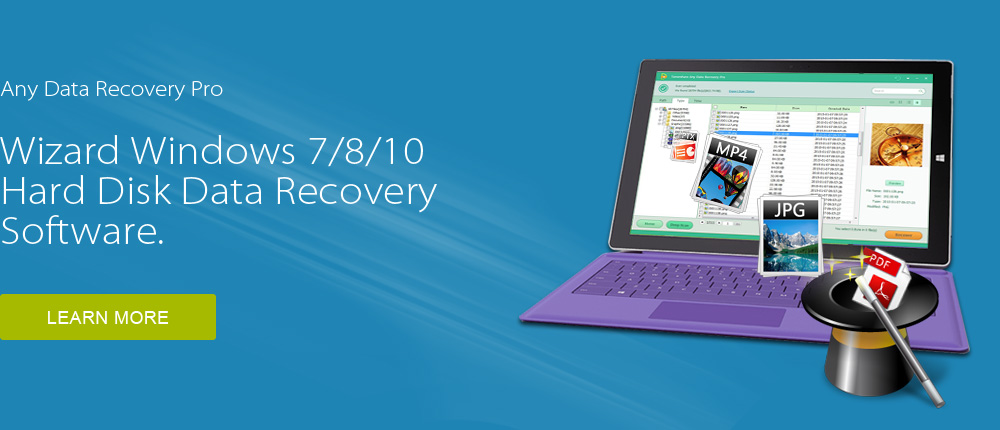 Winners of this giveaway are:
Hongjun Lin 
Jeffrey Popek 
Nik Aston 
Angel Torres 
Hania Balewicz
---
I'm sure everyone has had that horrible sinking feeling at one time or another when they thought they had lost a very important piece of data, whether it was a photo, a document, or whatever.  Searching online for a solution will bring up a confusing array of possible program options, many of them with very similar names.
Tenorshare Any Data Recovery Pro is a highly rated application that deserves your consideration as a tool to solve your problem.  It is meant to help you recover files from your computer's hard drive or other storage medium after they have been willingly or accidentally deleted.
Tenorshare Any Data Recovery Pro is data recovery software which is designed for finding and recovering files such as photos, videos, audio files, compressed archives, database files, emails, documents and much more, including files in more than 550 formats including word, excel, rar, jpg, png, rmvb, zip, mp3, mp4 and so on, from your computer's hard drive and various storage devices like an external hard drive, USB flash drive, floppy drive, camera (including SD card, Micro SD card, SDHC card, memory stick, XD cards, CF card), mobile phone, MP3/MP4 player, etc.
Files can be scanned and recovered that were stored by Windows 10/8/7/Vista/XP (FAT12/16/32, NTFS), Mac (HFS+, HFS), or Linux (EXT2, EXT3, EXT4) file systems.  This data recovery tool can help you recover files that were deleted, formatted, corrupted, or otherwise made inaccessible, as well as data lost due to hacker attack.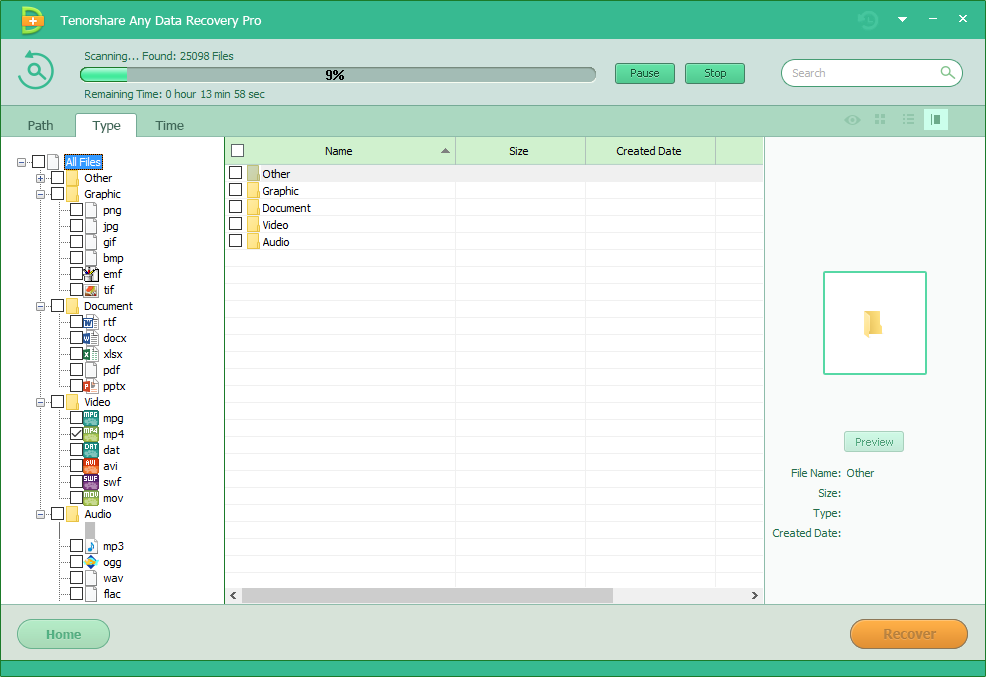 Tenorshare Any Data Recovery Pro provides six data recover modes to accomodate users of all levels and to make sure you get back all of your data:
Deleted Recovery: This is a mode that recovers the files which were deleted accidentally.
Format Recovery: With this mode you can recover files from the hard drive or other device that had been formatted.
Resume Recovery: With this mode you don't need to re-scan your system since it imports the results of previous scans.
Wizard Recovery: This mode has been designed for those who are considered beginners or for those that only need to look in specific locations. The wizard will guide them at each step of recovery.
Partition Recovery: This mode will recover files from a corrupt partition.
RAW Recovery: RAW Recovery mode will scan your system deeply and will recover files thoroughly.  Be aware that this in depth scan can take several hours if the targeted partition is very large.
If you have ever used  any data recovery application before, you have probably had the experience of waiting several hours for a deep scan to finish, waiting even longer for the files to be saved on your computer, only to find out that the file you are looking for isn't there. If you just want to look for a holiday photo, the recovery wizard in Tenorshare Data Recovery Pro allows you to search for and locate files with a specific name, date, or from a specific category such as photos, audio files, videos, text based documents, and emails.
To make the search even more specific, it's also possible to focus on a specific location such as a folder like 'My Documents', a removable storage device, the Recycle Bin, or the desktop.  This allows you to find files quickly and save time.  There is also a preview mode so you can preview the files to check their details and quality before recovering them. You can also select only the files you want to restore, rather than all of the files the program found, which speeds up the restore process.
Tenorshare Any Data Recovery Pro has very reasonable system requirements:
Operating System: Windows 10/Windows 8.1/8/7/Vista /XP (32-bit/64-bit) or Windows Server 2012, 2008 R2, 2008, 2003 R2, 2003
RAM: 256 MB or more of RAM (1024 MB Recommended)
Hard Disk Space: 200 MB and above free space
Tenorshare Any Data Recovery Pro is a comprehensive and practical data recovery tool which will help you recover all types of lost files.
Giveaway info
We are offering 5 Any Data Recovery Pro lifetime licenses, each worth $49,95.
To enter this giveaway please follow us on Twitter and like our page on Facebook.
https://twitter.com/_WinCert
https://www.facebook.com/WinCert
Please leave your comment bellow with your full name so we can contact you in case you are one of our lucky winners.