WinRAR v6.11 giveaway on WinCert.net (Closed)
We want to send a big THANK YOU to RARlab and the whole WinRAR team for making an exception and providing two additional licenses for this giveaway.
Here is the list of our giveaway winners:
Altan Ata
Gonzalo Martin Barrio
Wolfgang Maar
Ali Raza 
Marc Woland 
Marcin Karbowski 
Serg Karachun 
Rudolf Fodor 
John Bardsley
Winners will receive their licenses from the WinRAR marketing team in the next couple of days.
WinRAR, one of the most popular and powerful file compression archiving utilities features another giveaway on WinCert.net. We will share 7 perpetual licenses for the current (6.1x) version of WinRAR software. These licenses are perpetual and will work for all upcoming 6.1x versions.

WinRAR 6.11 completely supports RAR, RAR5, and ZIP archives and is able to unpack CAB, ARJ, LZH, TAR, GZ, UUE, BZ2, JAR, ISO, 7Z, and Z archives. With the latest release, WinRAR added support for the Gz archives with large archive comments. WinRAR can also now unpack contents of .zst and .zipx archives utilizing the Zstandard algorithm.
The latest WinRAR version also supports Windows 11 Explorer context menus but the company has decided to remove the support for the Windows XP operating systems. Although Windows Vista is still on the list of supported operating systems.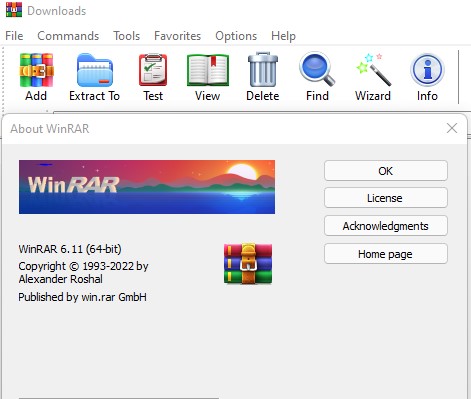 Among many new features, WinRAR has now increased the maximum allowed size of the RAR5 recovery record by 1000% of protected data size. This means that a maximum number of RAR5 recovery volumes can be 10 times larger than protected RAR volumes. It's worth saying that previous WinRAR versions were not able to use the recovery record to repair broken archives if the recovery record size exceeded 99%.
The complete list of all improvements and bug fixes can be found HERE. You can download both x86 and x64 versions of WinRAR 6.11 HERE.
WinRAR is provided with a 40-day trial period to give you the chance to thoroughly test it. After that, you'll need to pay €29,95 for a single-user license to continue using it. WinRAR licenses are valid for all available language and platform versions. If you have purchased several licenses, you can even mix versions to meet your own personal needs. WinRAR gives you all future updates for free and the program is updated on a regular basis.
win.rar GmbH, registered in Germany and represented worldwide by local partners in more than 70 countries on six continents, has been the official distributor of WinRAR and RARLAB products since February 2002 and handles all support, marketing, and sales related to WinRAR & RARLAB.COM.
Just like always, WinCert.net will provide 7 WinRAR 6.1x perpetual licenses for our readers. To enter this giveaway please like Winrar and WinCert Facebook pages at:
http://www.facebook.com/Winrar
https://www.facebook.com/WinCert
Also, to soothe the process of randomly selecting contest winners, we require all contestants to fill out the form at the following link:
WinRAR 6.11 giveaway on WinCert.net data form – WinCert
By submitting the form you consent to your data being shared with win.rar GmbH and WinCert.net for the purpose of issuing a WinRAR license to the winners. WinCert.net will delete your data after the giveaway is completed.
Winners will be announced on March, 13th 2022.
Good luck!