Without Acrobat, you can still create a professional PDF form
A PDF form can be very useful when doing a survey, an internal company questionnaire or any kind of activity that involves collecting data from multiple sources. Most people prefer professional tools like Adobe Acrobat, but it's not cheap. If you don't want to shell out a lot of money, you can turn to more affordable solutions that get the job done equally well.
Best 3 Ways to Create a PDF Form without Acrobat
Solution 1: PDFelement 7
The latest version of PDFelement from Wondershare brings all the powerful features from previous iterations and adds even more muscle to your PDF form creation capabilities. You can either create a PDF form from scratch or edit an existing one to customize it to your needs. Let's see how to create a PDF form as well as how to modify an existing one to make it fillable.
How to Make a PDF Form from Scratch
PDFelement gives you the option to start with a blank PDF document and create the form using an easy-to-use WYSIWYG (what you see is what you get) editor that has all the tools you'll need. Once you launch the program, click on the "File" option and select "New" to start from a blank file. Now follow the steps shown below: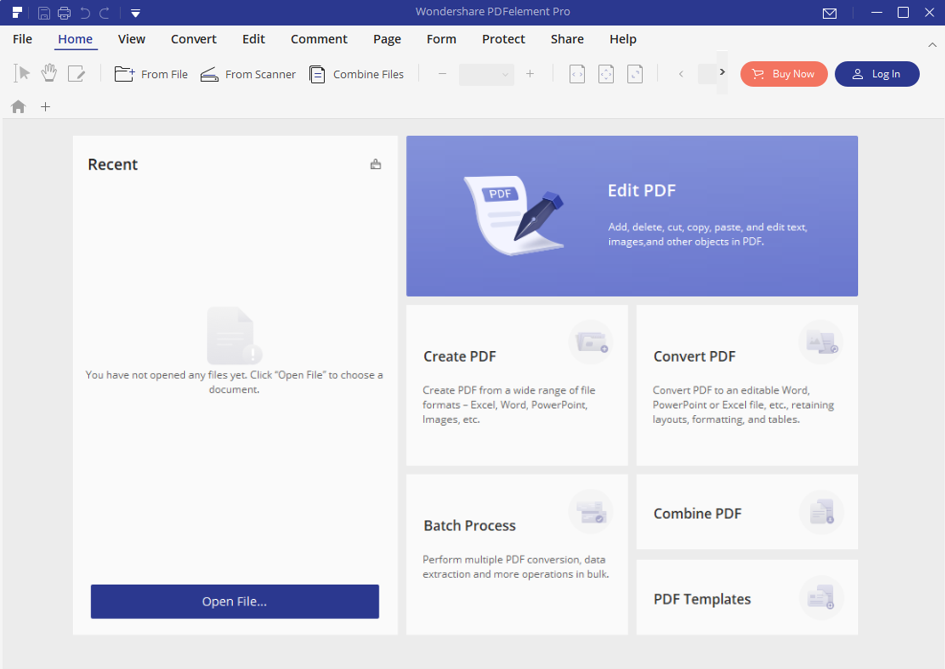 Step 1: Go to the "Form" tab and click on "Edit" to make it possible to fill the PDF form later on. You can set the basic form design using various backgrounds, and even add a header and footer for your PDF form using the buttons provided in the main toolbar.
Step 2: To add an interactive element, click on the tool for Form Field to specify the type of input. Based on what information you're collecting, use the appropriate interactive field. For example, if it's a simple yes or no question, you can use a radio button. To capture non-standard information you can use a text field, and so on.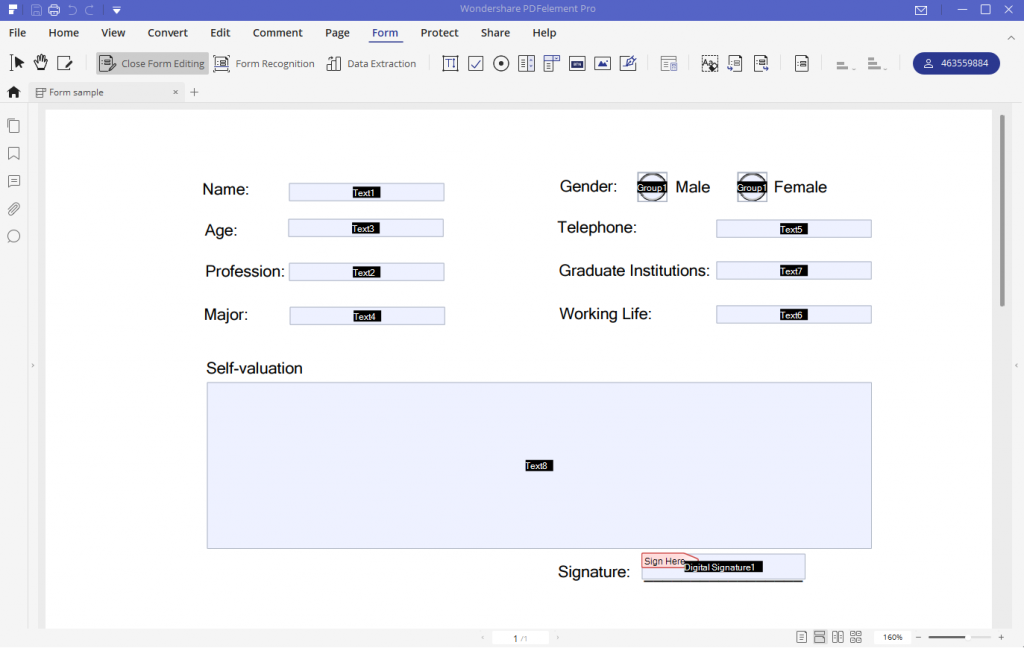 Step 3: Use your mouse to select where you want it to go. Click the area to input the field and double-click it to define its properties. You can name the field as well as edit its appearance, style and so on.
Step 4: You can also add text to your PDF form by clicking on "Edit" and "Add Text". Click on the document where you want it to go and then input the text.
Step 5: To complete the editing and preview your fillable form, simply click on "Close Form Editing" and save the file to see the preview.
How to Make an Existing PDF Form Fillable
If you already have a form, you can easily make it fillable with PDFelement 7. To do this, follow the steps below:
Step 1: Click on "Open file…" in the main software window to open an existing form. If the file already has input fields, you can click the "Form Recognition" option in the "Form" tab. After processing, you will see that the form fields are now fillable. It's that simple.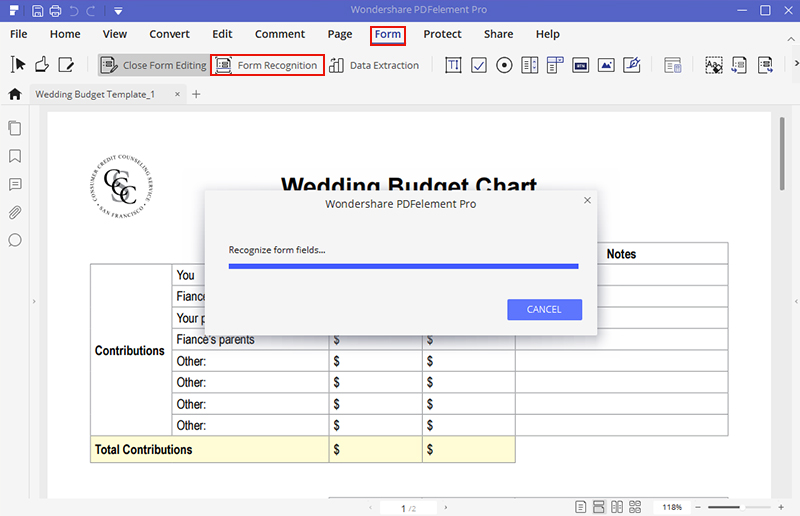 Step 2: If you don't have fields in the existing form, you can easily add them by clicking one of the interactive field elements in the main toolbar. Once you select Text, Radio Button or one of the other options, click on the form where you want that field to appear. Double-click to change the style, color, etc.
Step 3: Save the file to preview it.
Apart from this, you can also extract data from filled forms that have been scanned, edit forms, do batch data extraction, calculations and much more. The software also supports XML Forms Architecture, also known as XFA. With so many robust form-related features, it's no wonder that you don't need Acrobat to create a professional PDF form.
Solution 2: Make a Fillable PDF Form from a Word Form
Creating a Word form can be quite a challenge because it's not a straightforward process. The first thing to do is get an appropriate template and then get access to the developer tools. This involves a process called content control, which you can add by going to the "Developer" tab and clicking on "Design Mode." From there, you can add various controls such as checkboxes, text fields, drop-down menus and anything else you need on the form.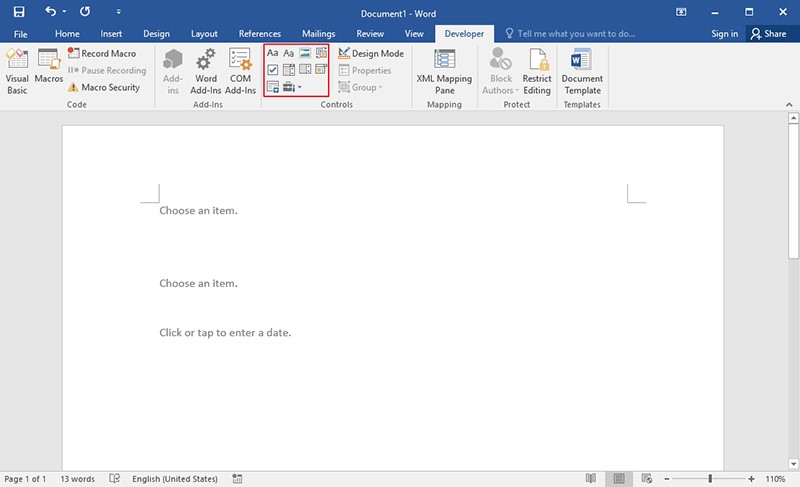 Once that's done, you can select File > Print, and when you click on the "Print To…" option, simply select PDFelement to convert it into a fillable PDF document and then save it. The hard part is getting the form design right, but after that, you can edit the PDF, add fields, change the design and do pretty much anything you need to in order to get the form to look the way you want to. PDFelement has everything you need, including the ability to add bates numbering, headers and footers, background design and so on.
Solution 3: How to Make a Professional Form with LibreOffice
If you're working with a Linux computer, you most likely have the open-source utility called LibreOffice installed on it. This is a great free option in the absence of Word or PDF form utilities. All you need to do is enable a couple of essential toolbars and you're good to go. Follow the steps described below to create a fillable PDF form in LibreOffice.
Step 1: Open a blank document in LibreOffice and go to View > Toolbars. You need to enable "Form Controls" and "Form Design" one at a time.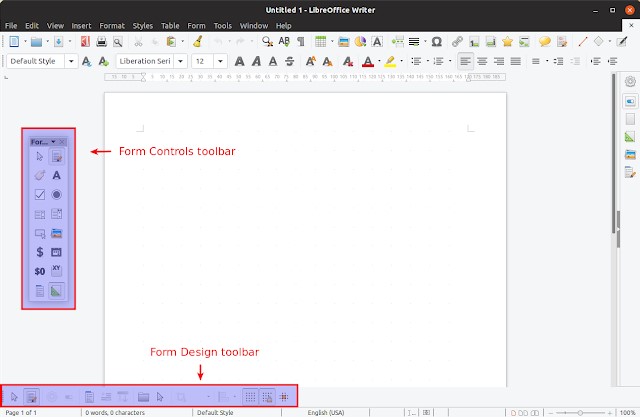 Step 2: You should be able to see the Form Controls window on the left side and the Form Design ribbon right below the document. From here, you can add various form fields like radio buttons, text input fields, text labels, etc. Once added, you can double-click to edit the properties of that element, such as size, position, visibility and so on.
Step 3: Once you're happy with the document layout and design, you can save it and export it to PDF. Do this by going to File > Export As > Export As PDF… In the PDF Options window, make sure "Create PDF Form" is selected, then click on Export.
The file can now be opened in any PDF editor such as PDFelement and edited to change any of the interactive elements.
These are the three best ways to create a professional PDF form without Acrobat. PDFelement has an edge over other methods because it has all the features of Acrobat at a much more affordable price (50% off available now). Sign up for a free trial the newly released PDFelement 7 and start creating professional PDF forms today.
Disclaimer: This is a sponsored article!