Event ID 1000 Application error, IE tab freezing
I've been bashing my head trying to solve the problem with one machine. We had a problem with one Windows 10 machine where the user was unable to load one page from the company web site. This was only happening for this user/machine.
Resetting IE settings, re-creating the user profile or altering advanced settings of Internet Explorer following suggestions found on Google, nothing helped.
Once I have examined the event log, I could see that the faulting module for the Event ID 1000 Application error was msxml4.dll even though I couldn't find the module in the path specified.
Faulting module path: C: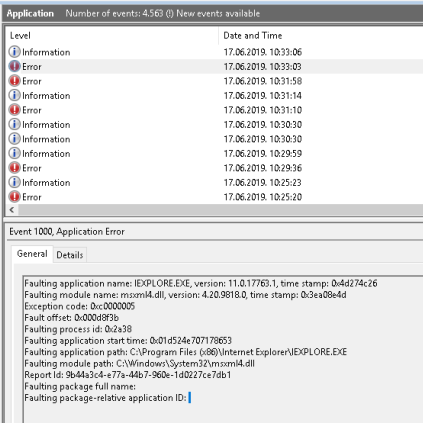 I have tried to locate the file and how to obtain it, and I have found this page:
https://www.microsoft.com/en-us/download/details.aspx?id=15697

I have downloaded both files considering both are needed for successful installation of MSXML 4.0 Service Pack 3 (Microsoft XML Core Services), otherwise you'll receive an error message.
Once this package has been installed, you should solve the problem with Event ID 1000 Application error and freezing tabs issue in Internet Explorer.