EaseUS Todo Backup Home Giveaway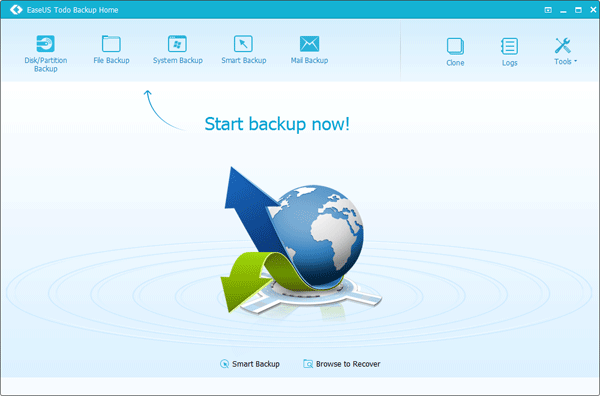 EaseUS will host  48hours EaseUS Todo Backup Home Giveaway. Don' t miss the chance!
EaseUS Todo Backup Home 8.9 is a must in this day and age where we depend on so many devices to get through our day. It is affordable, user-friendly and has more features that a typical backup application offers.
It is not often that we come across a good and affordable backup solution. EaseUS Todo Backup Home 8.9 provides us with an affordable backup software for a typical home user who has a couple of desktops and laptops lying around the house. You can rely on it to provide System Backup, File Backup, Full Backup, Disk Imaging, Outlook Backup and Backup to Storage Device. In fact, the latest version now supports backing it up to cloud such as Google Drive, OneDrive and Dropbox.
How easy it is to use this application? Well, it is as easy as 1-2-3. Now let's take a look at the 3 steps for running a System Backup and helping you have a peace of mind when things go wrong.
Step 1 involves downloading, installing and launching EaseUS Todo Backup Home. You will now arrive at the main window where it lists out all the features. Click on System Backup.
Step 2 is for you to choose the destination of the backup. It could be on a different partition, different hard drive, external hard drive, FTP server, network shared location, NAS, DVD or any location that is accessible by the system
Step 3 is once the initial backup is completed, it is time to schedule a backup so that it will run automatically. Here you can set it to run daily, weekly, monthly or on a particular event. This step will ensure that you will always have the current backup as and when you need it.
Yes, that is all you need to ensure that you are well protected. Just 3 simple steps, and you will have everything covered in case something untoward were to happen. Just follow the on-screen instructions and step-by-step wizard and you will be fine.
The System Backup will make sure that if your system crash and simply cannot boot, then you can call upon it to come to the rescue. It can be caused by a virus attack, hardware or software failure, improper or illegal operation, a power outage, or for whatever unknown reasons.
EaseUS Todo Backup Home 8.9 is essential for any home users as it protects the one thing that is important to all of us. Data – and lots of it. Now you don't have to lose sleep over missing or lost data anymore.